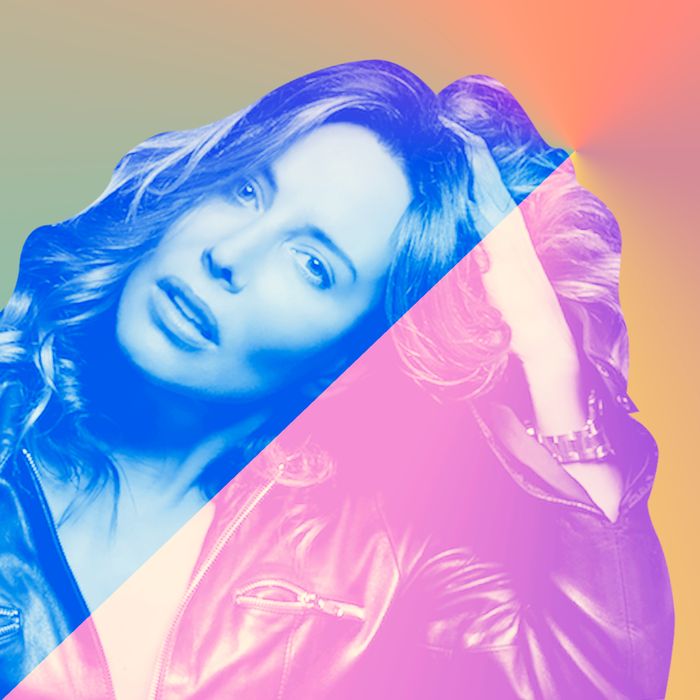 Photo: Courtesy Sally Hershberger
Sally Hershberger is a little skeptical of everyone doing DIY haircuts, especially when it's one of her clients.
"Miley Cyrus cut her own hair and she wasn't exactly thrilled with the results," laughs Hershberger, whose name graces four salons and a hair-care line. "We immediately jumped on FaceTime and got her hair in a way better place within a few minutes. It was cool to teach her how to cut her own hair."
So cool, in fact, that Hershberger is offering virtual cuts online (those interested can email cs@sallyhershberger.com), with 50 percent of the proceeds going to Direct Relief.
Hershberger didn't grow up wanting to cut hair, but once she tried it, she realized that she had a knack. So did Armando, the Los Angeles hairstylist whose hot salon included clients like Linda Evans and Olivia Newton John. This was back when Dynasty was the biggest TV show and "Let's Get Physical" topped the music charts. When Armando couldn't join Newton John on tour, he sent Sally. Through that, she met Herb Ritts, which eventually led to working with photographers like Richard Avedon, Annie Leibovitz, and Steven Meisel and creating iconic cuts on Meg Ryan, Jane Fonda, and Tom Cruise.
In the late '90, John Frieda hired Hershberger to develop his Sheer Blonde and Brilliant Brunette hair-care lines. The two opened salons together, but eventually parted ways. These days, the salons are hers alone, and while she's cultivating her product line (hand sanitizer out soon!), she's mostly focused on what a post-COVID-19 salon will look like.
"Overhead has become passé, and it's just not necessary. We won't need the front desk, clients will pay online, and everyone will be wearing masks," she explains. "Stylists will have to clean every time a client gets out of a chair, so we'll be spending a lot on cleaning products. Chairs will need to be spaced six to ten feet apart, so we'll be booking way less clients, too. It's gonna be a big, big change. I'm not sure how some salons are going to be able to survive."
Hershberger spoke with the Cut about soft beds, the hair color product we could all use right now, and the importance of putting your phone down and just listening.
What's your definition of beauty? Beauty instantly means nature to me: the ocean, the sun, the moon, the trees. To me, nature is the most beautiful of anything. It's what inspires me. Beauty in a person is someone who is confident and kind.
Where, if anywhere, in your beauty (or life) routine are you not quite that "clean," "green," or "sustainable"? Shampoo, conditioner, and styling products. I've never found an organic version I like. Honestly, most of the beauty products I like aren't organic, but most of my household products are, like my laundry detergent.
What is the opposite of "beautiful"? Arrogance. Mean people. Narcissism, that's a good one. If I had to pick one, narcissism all the way. Oh, and cheap. I can't stand cheap people.
What is your morning skin-care routine? Honestly, I don't really have one. If I'm not working, I don't touch my skin. Less is more for me. I use Cetaphil face wash and Tata Harper moisturizer.
What's the last beauty product you use every night? Tata Harper moisturizer.
What, if anything, is usually on your lips? Blistex, always.
Mascara of choice: Maybelline Great Lash.
Has your makeup routine pared down now that we're sheltering? Makeup isn't my thing, so it went from bare minimum to nothing. I do wear SPF every day though. Celebrity dermatologist Dr. Howard Sobel just came out with a good one in his new line Sobel Skin Rx. When I'm playing tennis or waterskiing, I use La Roche-Posay Anthelios Ultra Light Sunscreen Fluid SPF 60.
Has your skin-care routine revved up? It's revved down. I'm down to basics.
Fragrance of choice: Tom Ford Lost Cherry, Tom Ford Black Orchid, Tom Ford White Suede. I like the smokier ones.
Scented candle of choice: Cire Trudon and Diptyque.
Bath or shower: I prefer a bath, with Epsom salts. A bath takes care of you, but in the shower you have to put work in. You have to scrub yourself down. But showers are important, too.
Deodorant of choice: Schmidt's Charcoal + Magnesium.
Hand wash of choice: Savon Liquide Marseille Extra Pur Fleur D'Oranger.
Hand lotion that's getting you through all these washings? First Aid Beauty Ultra Repair Cream.
Most relied on hair product or tool? I like to keep everything really natural when I'm out in the Hamptons, where I'm staying now. The only products I'm really using are my 24K Get Gorgeous StylePro Shampoo and Conditioner and 24K Vanity Hair Shaping Balm.
What beauty product still needs to be invented? Something to make your hair never grow out gray. Hair that stays forever young.
What was your first beauty product obsession? I have naturally wavy hair and wanted straight hair when I was 16. That's when I really learned to appreciate a blow-dryer.
Daily carry-all: Hermès mail bag in black, red, and green.
Who makes your eyeglass frames? Robert Marc for optical, and REVO Silver Lining sunglasses when I'm outside.
What's your bed/bedroom like? It's white, light, bright, and airy with tons of art … and blackout shades. I like Frette, Pratesi and Duxiana, but I kind of combine my sheets, And lots of down pillows. My friend [chef] Lora Zarubin turned me on to these foam rubber pads that you put over a mattress. They're so soft! Now every bed has one. They're like $100.
What is your current "sheltering" daily uniform? Sweats. Aviator Nation, Free City, Adidas.
What do you own too many of? Sunglasses, leather jackets, and tennis shoes.
What beauty-related reality show, if not invented yet, would you love to watch? I would love to do another hair show like Shear Genius, but the challenges would be based on your favorite decade. So if the episode was focused on the '70s, I want to see a full Studio 54 makeover complete with hair, makeup, and clothing styling. My dream team work be Lori Goldstein as the stylist and Pat McGrath as the makeup artist. Wow, that would be a hoot!
Any hidden or secret talent or skill you possess? I used to be a photographer, I used to have a clothing line. Oh, and I'm an athlete.
What skill are you a consummate failure at? Technology. I'm decent, but I'm not great, because I'm impatient. My shit is complicated.
What was the most recent interesting conversation you had? I was chatting with Sandra Bernhard about the silver lining of everything that is going on with this pandemic. It sucks, it's honestly horrific, but we both wanted to find that silver lining. We hope this changes the world, we hope this gives humanity the reboot it needs. We talked about how maybe the world needed this, maybe we all needed this to come together, to slow the hell down and smell the roses. I pray to God change will happen. We weren't meant to live the lives we were leading. That wasn't living — it shouldn't be who can work the fastest, or the most. We shouldn't spend our lives glued to our phones. When we're at concerts, maybe we'll finally stop recording them and actually just enjoy the damn concert.
What would the name of your autobiography be? Honey, It's Major. My close circle always tells me that this is my quotable quote.
Favorite smell? Anything Tom Ford makes.
Least favorite smell? Overly cheap perfume and deer shit — that's the worst.
What do you think Pantone's color of 2020 should have been? My first instinct was to pick black, but let's go with gray. Nothing about this moment is black or white right now. We're deep in the gray.
What do you most often disagree with others about? Probably being present and staying focused. I feel like there are a lot of times people aren't focused or listening, and I want them to wake the fuck up. Stop saying the same things over and over. I'm impatient when people don't use their intellect. Enough is enough.
Favorite CBD product: Nordic Goddess Body Balm for my hands and feet.
Comfort food: Pasta.
Vice snack: Popcorn.
Most impressive dish you make: I'm a really good cook, my style is very Alice Waters. I like to keep things clean and simple, whether it's a steak, pasta, or eggs. Everything is farm to table, very organic and very healthy.
What food would you never eat? Snails. No escargot.
What do you foresee as the top beauty trends for the second half of 2020? We need to get the client back to feeling how she did before this all happened. Actually, better than that, she should feel like herself, but in a more natural and dialed down way. Her trim will be more natural, and her hair overall will require less maintenance. We'll all need a little less.
What product in your brand's product domain is misunderstood and should be a best seller? I would say my 24K Liquid Assets Daily Conditioning Remedy. It's a keratin spray that instantly softens, smooths, revitalizes, and refreshes your hair. It also protects from heat and UV. Just like people take vitamins every day, they should be adding this vitamin to their hair whenever they are washing it.
What product in your brand's product domain is currently your favorite (understanding that this could change all the time)  My 24K Supreme Body Volumizing Mousse. It doesn't matter what style I'm trying to do that day, it always gives the hair hold and most of all guts.
What activity do you do when this new stress becomes too much? I've been playing tennis daily.
Aside from the obvious toilet paper, hand sanitizer, and Clorox wipes, what has been your stress shopping item? Tequila, wine, and food.
Favorite hand sanitizer? My own!
What has been an upside to this crazy time for you? I get to spend time outside with my dogs, I'm not overworked, I can appreciate nature. Also, have you seen how empty the dog shelters are? People are fostering and adopting left and right. I'm so happy for those animals!
What beauty treatments should we give ourselves now that we've got all this extra time? Exercise, meditate, and give your hair a break from the heat.
Conversely, now that we're in this isolated state, what in your own grooming routine are you less … on top of? Doing my hair in general.
When this is all over, what are the first three to five things you'll do or places you'll go? Go to my salons and do everyone's hair, including having mine done, dine at Tutto Il Giorno in Sag Harbor and the bar at Babbo.