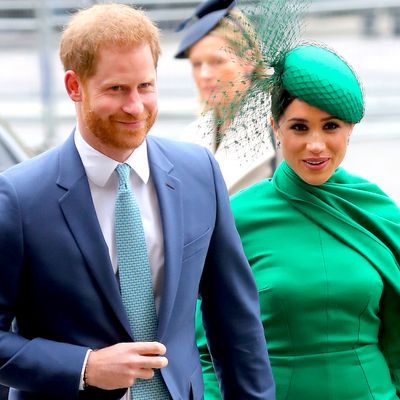 Prince Harry and Meghan Markle.
Photo: Chris Jackson/Getty Images
If you are among the approximately 300 million people working and socializing via Zoom these days, then perhaps you have heard of the dreaded Zoombombing: the practice of gate-crashing gatherings hosted on the teleconference app, usually for malicious and chaotic purposes. Well! I am not sure if Meghan Markle and Harry, whose full name is too long and complicated to get into here, are aware of Zoombombing, as a concept. But the pair appear to have sneaked into a virtual meeting for Crisis Text Line staff, albeit with the intention of spreading cheer and boosting morale.
According to Cosmopolitan, the Duke and Duchess of Sussex "decided to crash" a Zoom call for workers at the mental-health support service last week. Presumably, they had the meeting info and did not hack their way in, and in any case, the surprise appeared welcome. A Harry-and-Meghan fan account reposted a selfie from one smiling attendee, noting that "this is the first time we have seen the couple together via Zoom since quarantine began!" And on Twitter, another fan account shared the photo, explaining that Harry and Meghan dropped in to "champion the work" Crisis Text Line does. Apparently, they just wanted to say thanks and offer some words of encouragement.
Since they arrived in Los Angeles in March, the couple has mostly been staying home in compliance with social distancing guidelines, although they have also been delivering meals to home-bound people in need during the coronavirus crisis. To celebrate their son Archie's first birthday, they also made a video — of Meghan reading Archie the book Duck! Rabbit! — in support of a Save the Children fundraiser. One source recently told Us Weekly that the couple's "No. 1 priority right now is helping those affected by the virus, especially the vulnerable," so perhaps if you are very lucky they will pop up in a Zoom near you! With that in mind, maybe it's a good idea to double-check you're wearing pants next time you video conference. Or continue to live dangerously. You do you.