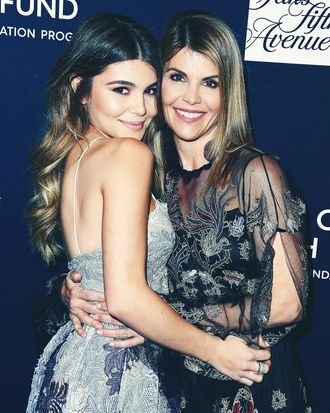 Photo: Steve Granitz/WireImage
While the jury is still out on whether Full House actress Lori Loughlin will be convicted of any crimes in her ongoing college-admissions bribery case, the matter of her reportedly strained relationships with the daughters whose college acceptance letters she and her husband allegedly tried to buy has been settled on Instagram.
On Sunday, Loughlin's 20-year-old influencer daughter Olivia Jade Giannulli, who returned to giving YouTube beauty tutorials in December after a brief hiatus at the height of the scandal, crafted an enthusiastic Mother's Day post in honor of Loughlin. It seems like ages ago —although it was only last year — that she and her sister, Isabella Rose, both left the University of Southern California after their parents were accused of paying $500,000 to guarantee their daughters' admission by passing them off as crew-team recruits. Theirs is one of dozens of cases filed as a result of the so-called Operation Varsity Blues investigation into a massive college-admissions cheating scam.
"You are my best friend," Olivia Jade wrote in her Mother's Day post. "You are one of a kind. I love you so so so much & cannot wait to give you all the love in the world today & forever. Thank you for being you. You are the most special person to me. I am so blessed to be your daughter and so proud to call you mom."
Isabella Rose did a similar post, gushing to her followers, "The strength mothers' [sic] have is unparalleled, I think they might be the closest thing we have to superheroes," adding that she's proud to be her mother's daughter "today & everyday [sic]."
Both messages are far more effusive than the terse birthday wishes to their mother last July amid rumors of a falling-out, particularly between Loughlin and Olivia Jade.
On Friday, Loughlin and her husband, Mossimo Giannulli, lost their bid to have the charges against them thrown out; their case is still planned to go to trial in Boston this fall. Charges against Loughlin include conspiracy to commit mail and wire fraud, money-laundering conspiracy, and bribery. The couple, and several other parents allegedly connected to the college-admissions bribery scandal, claim federal agents entrapped them by having Rick Singer, the mastermind behind the scam, "bend the truth." Olivia Jade and Isabella Rose have not been charged in connection with the scandal.