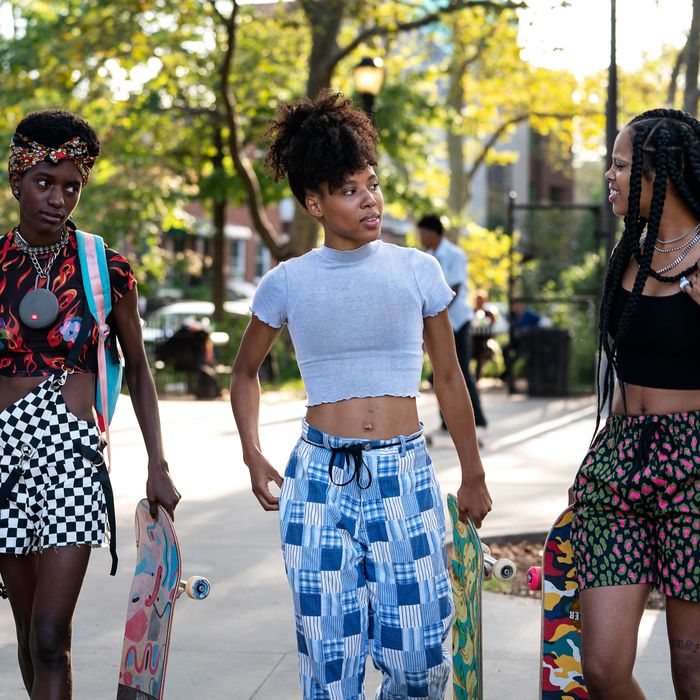 Photo: Alison Cohen Rosa/HBO
The skater girls in HBO's six-episode series Betty possess a kind of unattainable cool that's completely out of my league, which is part of what I love about it. It's mostly a show about hanging out, but it doesn't shy away from substance: The girls confront the pervasive sexism of the skate community, and deal with issues of race and class. There's even an (unusually) well-executed Me Too moment in between the cinematic skate scenes. And the clothes are so, so good.
Betty is a feast for the fashion-inclined, especially for people interested in looking cool while being comfortable. The women in Betty have the kind of effortless, "Why didn't I think of that?" style I can only hope to emulate upon my release from quarantine. I'm talking pasties as a shirt, a bike chain as a necklace, lightweight cargo pants paired with teeny tiny crop tops.
The show is a continuation of Skate Kitchen (2018), a pseudo-documentary by writer-director Crystal Moselle that followed the real Skate Kitchen, a collective of women skateboarders, around New York City. The Skate Kitchen girls all played versions of themselves for the film and have reprised their roles for Betty. Costume designer Camille Garmendia worked with each of them to create looks that fit their personal style.
"Honestly, just be yourself," she said, when I asked how I could style myself as a cool skater girl this summer. "Wear whatever makes you feel good. It looks different for every girl. Nothing is wrong if you can skate and you feel good." Read on for a guide to the characters' best looks, with tips from the girls themselves.
Kirt
Played by Nina Moran, Kirt is the group's class clown and lady-killer. Her style of dress is the most masculine, all basketball shorts and baggy tie-dye tees (at one point in the show she says she'll never wear a dress.) "The pieces that I chose were mainly very colorful and vibrant," says Moran. "This matched my personality and my character Kirt's personality perfectly, because we're eccentric, high-energy individuals."
Signature item: "My backward trucker snapback."
Her advice for dressing like a skater girl this summer: "Button-up collared Hawaiian shirts, and tie-dye."
Camille
In the show, Camille (played by Rachelle Vinberg) describes her style icon as Charlie Chaplin. She really does take after him in her aesthetic: lots of loose black pants and white button-ups, sort of like formal wear but for a skater.
Signature item: "My glasses," says Vinberg.
Her advice for dressing like a skater girl this summer: "I always go for wearing Dickies."
Indigo
Indigo (played by Ajani Russell) is a rich girl masquerading as a small-time drug dealer. She starts skating after Kirt tries to woo her, fails, and instead invites her into their friend group. Her look is all tiny crop tops and skater skirts (and at one point, a feathered red Gucci coat). She wouldn't be out of place at an Opening Ceremony sample sale, or fashion show for that matter.
"The clothes Indigo skates in aren't necessarily clothes that I would skate in, because I skate expecting to fall at some point during the sesh," explains Russel. "I prefer fuller coverage and protection. Indigo's style is very different from mine, but Camille made sure I was able to safely skate in all of the looks."
Signature items: "Silver jewelry made by my friend Jenny."
Her advice for dressing like a skater girl this summer: "Cool skater girls wear what makes them feel confident. They unapologetically flaunt their style and passion for skateboarding simultaneously. That can take many different forms, of course, but it's important to wear what you're most comfortable in while skating."
Janay
Played by Ardelia (Dede) Lovelace, Janay is Kirt's best friend and the group's referee. She's bighearted, assertive, and levelheaded; the type of person to go out of their way to spend an entire day helping a stranger find their stolen backpack (which she does in the show).
She's also the queen of sports bras as clothes. "Since Janay is skating during a New York City summer, I didn't want her to wear too many layers," Lovelace explains. "The Nike sports bra was perfect because it showed her feminine side, and gives her the flexibility she needs when skating."
Signature item: The Obama Supreme shirt. "Obama is a powerful figure and represents personal progression to me. I wore that shirt to set during preproduction and Camille saw it and said 'Oh! We are using that!'"
Her advice for dressing like a skater girl this summer: "Ha! It doesn't come down to what brand you are wearing, it comes down to personalization. I would suggest baggy pants with cute fitted crop tops that have texture and color. Mix and match patterns to make the outfit interesting. Also a pair of Nike SB Dunks will definitely give you a cool skater girl look."
Honeybear
Honeybear (played by Kabrina Adams, who's also known as Moonbear) is a shy, talented visual artist who always has a camera on her. Of all the girls, she's the most striking and eccentric; she's always wearing a colorful hair wrap, sports pasties in lieu of a shirt, and accessorizes with bike chain necklaces. "Basically my character wears what I do, except for camo. I don't wear that," says Adams.
Signature items: A speaker for a necklace and mismatched shoes.
Her advice for dressing like a skater girl this summer: "You shouldn't try to style yourself as something you're not. It's always best to try different pieces and find your own style. Then you never have to worry about what is cool or trending."