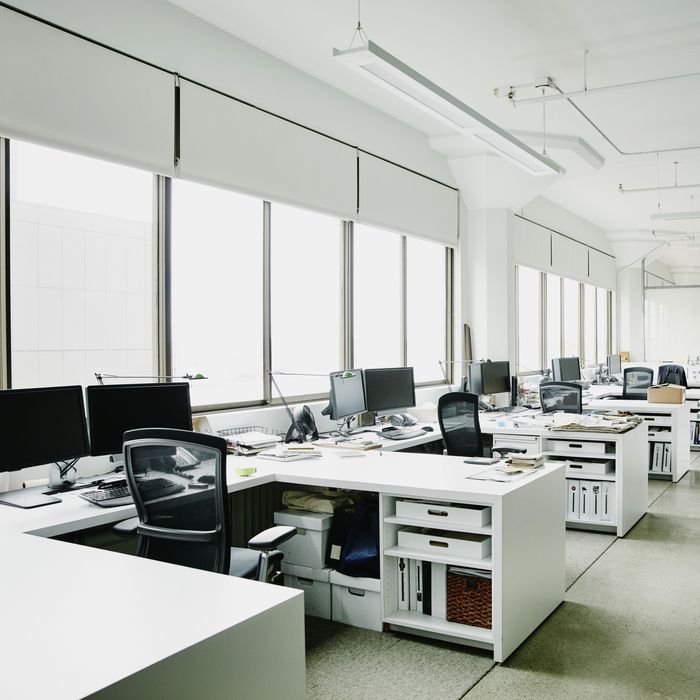 Photo: Thomas Barwick/Getty Images
With each passing day, the delight of gossiping in the office cafeteria, or the dread of watching your employer convert its layout into open-plan seating feel increasingly like relics of the past. This week, the Centers for Disease Control and Prevention released updated guidelines for safely reopening offices, and the recommendations confirm our suspicion: Future offices are going to look at lot different.
In addition to recommending that employees wear face coverings at all times, regularly wash their hands for at least 20 seconds, abstain from handshakes, and stop mindlessly touching their faces, the CDC advises that employees should get their temperature and symptoms checked upon arriving at the office, and desks should be spaced six feet apart. Also, windows should be opened more to improve ventilation.
However, as the New York Times notes, some of the recommendations "border on the impractical, if not near impossible." For example, the CDC recommends that people limit their use of elevators, but that if they must use one, individuals should stay six feet apart. The guidance also suggests that people drive to work by themselves instead of taking public transportation or even carpooling, which would be unfeasible for countless workers. In New York City alone, 60 percent of people who ride public transit are commuting to and from work, according to data cited by the New York Public Transit Association; per Pew Research Center data, those most likely to depend on public transportation are low-income, black, Hispanic, or immigrants.
The agency also recommends that workers say farewell to beloved communal spaces and perks. "Replace high-touch communal items, such as coffee pots, water coolers, and bulk snacks, with alternatives such as prepackaged, single-serving items," the guidelines read. Additionally, the CDC suggests a ban on seating in common areas.
Or, employers could simply follow Twitter's example and allow employees to permanently work from home.