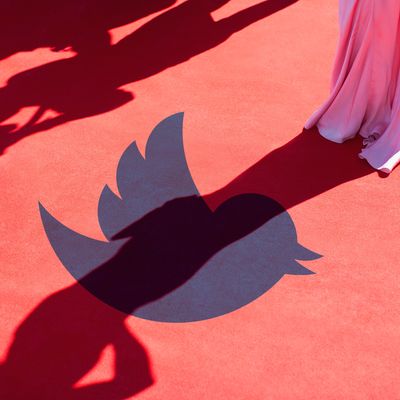 Photo: Paul Bradbury/Getty Images
Back in November, when the coronavirus was not yet a subject of widespread global concern, Aria Olson, a 19-year-old senior at the University of Michigan, thought it could be fun to host her own version of the Met Gala online.
Olsen, who received her bachelor's in aerospace engineering this weekend and is currently isolating with her parents in Missouri, identifies as a member of "high fashion Twitter" ("hft" for short), a community of insiders, outsiders, and everyone in between who want to discuss the latest runway collections, fashion history, industry news, and issues like fashion's impact on the environment. When Olson put out a call to gauge interest in what would eventually be called the High Fashion Twitter Met Gala, the response was enthusiastic — over 800 people officially signed up to participate. But Olson had no idea that a virtual Twitter red carpet would be the only thing left for the sweatpant-wearing public to look forward to on the first Monday in May.
In mid-March, the Metropolitan Museum of Art's Costume Institute announced that this year's Met Gala and corresponding exhibition, "About Time: Fashion and Duration," would be postponed due to what is now being called a global pandemic. Of course, Anna Wintour and company were not about to risk decimating an entire A-list population. Olson saw it coming, but she was disappointed nonetheless.
"When they canceled [the Met Gala], it was really sad for the community because it's something that brings us together," she told the Cut after finishing her engineering classes last week. "Since we're a completely virtual event, we figured, Okay, we'll pick up the reins. All you see on the news today is COVID, COVID, COVID, and that can get really draining. Sometimes it's nice to just have something fun and light." There is also a charitable element: Participants and onlookers are encouraged to donate $5 to the International Medical Corps. If you make a donation and and send a screenshot to the event's organizers, you will be sent an e-book of highlights.
Olsen and a team of ten other young women have spent the remainder of the school year balancing their studies and organizing the event remotely. Their names are Alejandra Beltrán, Chloe Kennedy, Jana Dragićević, Margaux Merz, Perla Montan, Raebele, Rebeca Spitz, Samantha Haran, Senam Attipoe, and Sofía Abadi. They hail from seven different countries, and range in age and background — the youngest is 15 and from Serbia; the oldest is 22 and from Argentina. Only two team members are studying fashion, and two have finals today. To deal with the difference in time zones, they communicate via WhatsApp. It's been a lot of work. Raebele, 18, who is from the Phillipines, woke up one morning to find 4,000 new messages in a single #HFTMetGala2020 group chat (there are four for each aspect of the event, from challenges to press relations).
The event, which takes place today, Monday, May 4, for a full 24 hours, is broken down into a four different categories: The "Wardrobe Challenge," for putting together an on-theme look from your own closet; the "Photoset Creation" challenge, for creating mood boards or a fantasy outfit using a collection of images; the "Illustration Expression" challenge, which extends to any medium; and a final category for "Open Creativity."
For the real-life Costume Institute event, designers and muses pair up to create custom looks. In this same vein, the virtual Met Gala organizers also meticulously assigned hundreds of different brands to specific Twitter users using a Google spreadsheet. In order to make the event open and inclusive, though, this did not extend to the "Wardrobe Challenge." As in, you don't need to own (or go out and buy) designer clothes in order to participate.
Despite these "challenges," there will be — gasp! — no judgement, or competitive element. "We felt that the fear of being placed on a 'worst-dressed list' or having to fight for 'best-dressed list' would put people off," said Olson. Instead, the @HFMetGala account is going to try to like every single submission.
It's a novel idea: fashion for fashion's sake. The Met Gala began as a fundraiser for the Costume Institute (seats are $35,000 a pop), and has since become a circus for celebrity and a boon for online traffic. That is, in part, its genius and its thrill. In its place, however, the High Fashion Twitter Met Gala arguably reveals what the Met Gala lacks.
"This [event] was definitely created in response to the exclusivity of the Met Gala," said Olson. There's been "discourse" on hft for years, she explains, about "how the Met Gala has turned into celebrity prom." Where's the drama? The freshness? "It feels very contrived and very controlled," she added. "Fashion is an industry, but personally, I feel like the industry has been kind of stuck, or stagnating. It feels like we're seeing things that we've seen before over and over again."
This year's Met Gala theme of time, pegged to the museum's 150th anniversary, felt more abstract than year's past — "I was confused," Olson admitted — but it now feels particularly relevant to this moment, when the industry is frozen and forced to think about a new way forward. Looking at a preview of the exhibit on Vogue's website, side by side comparisons between, say, an 18th-century embroidered jacket and a similar-looking one from a 2018 Louis Vuitton collection actually read like a @diet_prada post minus the criticism, or a typical hft tweet looking to spark conversation about collections past and present. It's clear that curator Andrew Bolton understands the internet's power of reference, and has smartly harnessed it for a modern-day exhibition. But would the Met Gala red carpet itself been similarly thoughtful and progressive?
We'll never know what the IRL 2020 Met Gala would have been, but perhaps the High Fashion Twitter Met Gala can serve as inspiration for what it could and should be in the future.