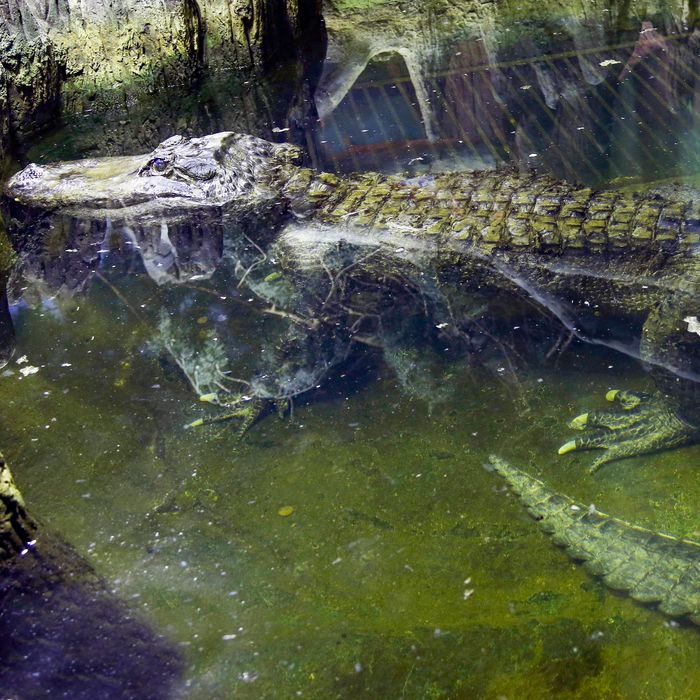 RIP.
Photo: Mikhail Bibichkov/AP
An international alligator of mystery has died at age 84: Saturn, who — according to lore and not to verifiable fact — once belonged to Adolf Hitler. A very controversial crocodilian, as you can see.
And also, an uncommonly old one at the time of his passing on Friday. In the wild, American alligators typically live to be between 35 and 50, and that's not even accounting for wartime conditions. Was Saturn a witch? We have no way of knowing one way or the other, however, he does seem to have been a preternaturally lucky gator.
Hatched in Mississippi, Saturn (then 7 years old) escaped the Berlin Zoo in November 1943, amid Allied air raids that allegedly killed all the zoo's other alligators and crocodiles. Saturn wound up among the small handful (fewer than 100) of the zoo's 16,000 animals that survived World War II, although historians do not know what he got up to between his disappearance and his capture, by the British, in 1946. One former zoo archivist has speculated that a Berliner may have taken Saturn — who, at the time, would've been much smaller than his adult 11.4 feet — as a pet. In any case, he, unlike other zoo residents, avoided being eaten by his human neighbors. The Brits awarded custody to the Soviets, who installed Saturn in the Moscow Zoo.
Per the BBC, the rumor about Saturn having been a member of Hitler's menagerie cropped up "almost immediately" after he arrived in his new home, although the zoo thinks you shouldn't judge him for his origins, whatever they may be. "Even if, purely theoretically, he belonged to someone," the zoo said in a statement announcing Saturn's death, according to ABC, "animals are not involved in war and politics and it is absurd to blame them for human sins."
Indeed, far from pinning Germany's evils on Saturn, keepers at the Moscow Zoo "tried to take care of the venerable alligator with the utmost care and attention," the statement continued. Apparently, Saturn was a picky eater who "loved a massage." He made his displeasure known — for example, he once tried to chomp off a staffer's arm — and played favorites among those charged with his care. "It is a great happiness that each of us could look into his eyes, just quietly be near," the zoo said. "He saw many of us as children. We hope that we did not disappoint him."
Ah yes, well. Particularly if he really was a witch.