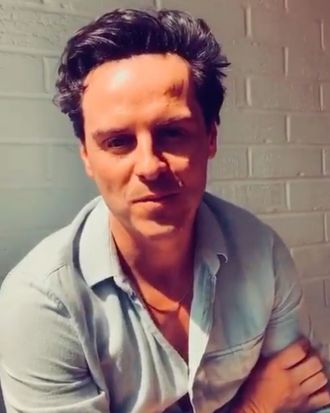 Andrew Scott
Photo: @emilia_clarke/Instagram
It's been a while since I've been to a poetry reading, not only because distancing restrictions currently disallow it but also because, with regards to poetry readings, I have already been social distancing for years. However, I still managed to see a virtual poetry reading that disturbed me, not for being weird, or boring, or insanely good — no, this one had its way with me because it was designed to remind me that Andrew Scott is painfully hot.
On Monday, Emilia Clarke, who apparently has been running an Instagram salon of celebrity poetry readings these past few weeks, posted a video of Scott — a.k.a. the Hot Priest from Fleabag — reciting a bit of verse by the Irish poet Derek Mahon titled "Everything Is Going to Be All Right." For the occasion he wore a lightly buttoned denim shirt, through which one may glimpse the hint of a gold chain, an accessory recently noted for its sex appeal. He sits against a white brick wall, strikingly lit from the side. Then he bites his lower lip, flashes a smile, and begins the reading.
Scott gives the reading his all, such that it would not be out of place as a one-man show opening at London's Old Vic Theatre. "How should I not be glad to contemplate / the clouds clearing beyond the dormer window," he recites, and licks his lips obviously. I cannot at any time picture this reading taking place in Brooklyn. "I lie here in a riot of sunlight," Scott continues as he leans into the light, taking no prisoners and leaving me no conclusions to make for myself. Then I remember that in addition to a keen red-carpet sartorial sense and an indelible role as the hottest clergyman on television, Scott is five-foot-eight, my favorite height for a man. With his sexy Dublin accent and grandiose delivery, Scott is the hottest Lord of the Rings character without having appeared in any of the movies.
"Everything is going to be all right," he says, finally, with a winsome grin. Gotta love a man who lies with impeccable timing.