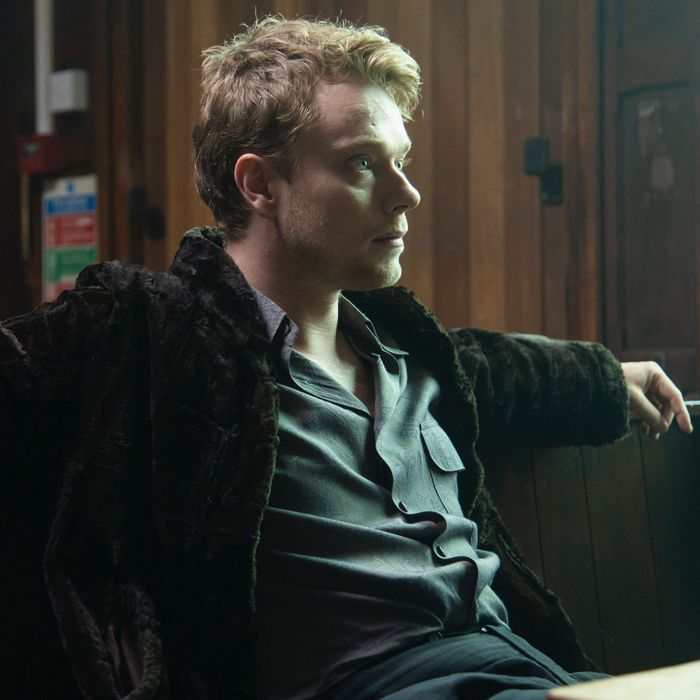 Photo: Courtesy of IFC Films
It's a special treat to see an actor you love pop up, unexpected, in a role completely unlike the one they are best known for. For many of us, Alfie Allen is synonymous with his character in Game of Thrones; I mean, we spent the better part of a decade with Theon Greyjoy, the disgraced prince who was so thoroughly traumatized he became "Reek," a broken, terrified shadow of his former self. He had one of the best character arcs in the series, and although Allen didn't amass the star power of an Emilia Clarke or Sophie Turner, his incredible performance made him a fan favorite.
I've actually loved him since 2007, when he appeared for about ten tear-soaked seconds in Atonement. So you can imagine my delight when he materialized during my weekend movie viewing, refashioned as my very favorite trope: the sexy, tortured dirtbag rocker.
Allen plays John Kite, a fictional rockstar in How to Build a Girl, a new movie starring Beanie Feldstein that's now available to stream. Adapted from Caitlin Moran's semiautobiographical novel of the same name, it tells the story of Johanna Morrigan, a saucy 16-year-old who escapes her drab, destitute life in Wolverhampton by refashioning herself as a firebrand rock critic named Dolly Wilde.
Feldstein is incandescent as the film's protagonist. Her turn as Dolly Wilde is thrilling, all fishnets, boobs, and box-dyed red locks. She even rocks a top hat, Mad Hatter style. (The only shortfall is her brave but failed attempt at a West Midlands accent.) Luckily though, it doesn't distract much from the story, which follows a familiar coming-of-age template: Johanna's loss of innocence as she tries to fit in with a misogynistic band of music critics.
But her performance, though strong, wouldn't have been nearly as compelling without the perfect leading man in Allen, who's inimitable as the film's brooding rock star. In fact, the best scenes in the movie are between him and Feldstein, whose chemistry makes their (one-sided) love story not only believable, but heartrending. He's all cigarettes and gin at noon, but has a surprising sweetness to him, and after taking Johanna on a drunken whirlwind tour of Dublin, brings her on stage to watch a tender, soulful performance that floors her (and the audience).
Director Coky Giedroyc certainly knew what she was doing, because the scene gave me the kind of shivers I haven't experienced since seeing Jackson Maine play the first few bars of "Shallow" in A Star Is Born. And if you don't already have a crush on Allen, How to Build a Girl will certainly leave you with one.