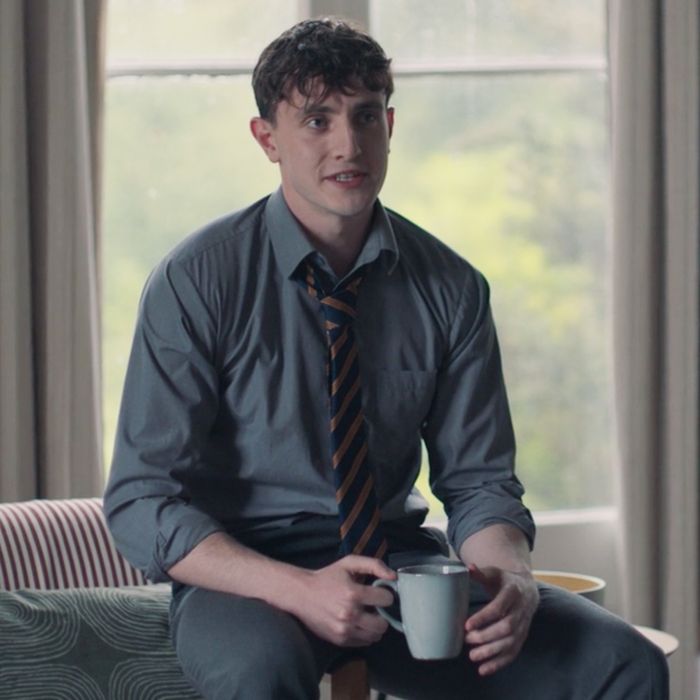 Tea, otherwise known as leaf water, is possibly the least sexy beverage, right after a tall glass of sweaty milk. Often dangerously hot and tasteless without fixings, it must be sipped (primly, or else ceremoniously). What's more, a spill could mean grave injury to yourself or others. Tea — like Chardonnay or prune juice — simply doesn't communicate the same kind of excitement or taste of say, a flute of Champagne, a frosty martini, or a glass bottle of expensive European water.
And yet, as I was watching the attractive, horny Irish protagonists of Hulu's Normal People sip their tea, so moody and sexy and grave about the whole thing, I had a passing thought: Maybe, just maybe, tea is hot? Perhaps Normal People's orbits of intellectual sexiness include polite little drinks?
It turns out that, yes, maybe. My evidence and spoilers are ahead:
Marianne and Connell drink tea while having a frustrated conversation — confrontation, even — after they first start having sex and he ignores her at school. The tea drinking is quite hot: perhaps because of their uniforms, the charged, emotional flavor of the conversation, and the way Connell holds his teacup in his giant hands:
Here, too, is a sad and sexy Marianne with her bangs, dungarees, and (assumed) teacup. She's stopped going to school after Connell has continued to ignore her in public, and even proceeded to ask a popular girl to the school dance. Her look is undone — not slovenly but weary. The teacup is a worthy accessory to this overall vibe of malaise:
There is also some sad-boy, precoital (what also appears to be) tea sipping:
As well as a bit of sexy electric-teakettle-gripping:
Which is followed by some shared-bed tea drinking:
There is also a big fuss of tea preparation, which a recently mugged Connell does not get to drink, because he and Marianne bicker over having separate lives and relationships:
Of course, the characters of Normal People look hot drinking whatever beverage happens to be in their hands; indeed, the show has plenty of moody wine drinking and beer slugging. That said, it seems they're making a case for tea as a truly sexy beverage, something that — exceptions like Jet Li in Fearless aside — simply hasn't been done much.