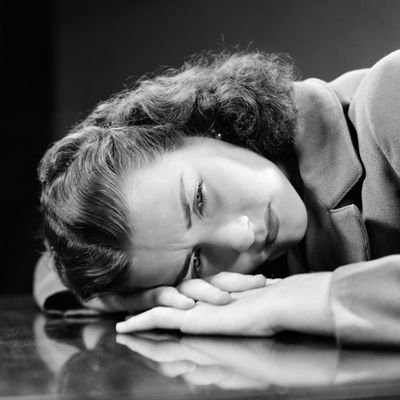 Photo: H. Armstrong Roberts/ClassicStock/Getty Images
I hated my job before the pandemic, and now I hate it even more. I'm a product manager at an apparel company, and the whole place is awful. The hours are never-ending, and there's even less respect for personal time now that we're all working from home. I also don't approve of how the warehouse staff has been treated throughout this crisis. I'm 29 and have had this job for two years; it was a significant step up from my previous job in terms of salary and title, but the company culture is bad and getting worse.
I was originally planning to quit in May (I've been saving up to do so since last fall) and take some time to reevaluate what I want to do next. But now I'm wondering if that's completely insane. I will have enough savings to cover my expenses and bills for at least six months (or longer if social-distancing measures keep up), but will I be able to find a new job by then? It seems pointless to look for jobs right now, and I'm not sure when that will change.
I know I'm incredibly lucky to even have work right now, and part of me thinks I should just be grateful for my paycheck. But saving up to quit is the only thing that's gotten me through these past few months, and honestly, I need a break. What's the right move here? Can I prioritize my mental health and put in my two weeks' notice? Or do I need to save more before I leave? (If so, how much?) Or should I just suck it up until the economy recovers somewhat?
I can't tell you when to quit your job, exactly. I don't know what the economy will look like in six months, either. But I do believe that you shouldn't have to torture yourself for a paycheck. I wish more people had the financial option to leave a workplace that's bad for their health (mental and/or physical), and I'm glad that you're in a position to do so, even if it's tenuous.
On that note, you'll want to consider your next steps very, very carefully. Most economic models predict that this mess will continue to get worse before it gets better, and the country's recovery may take years. There's a lot of pressure to hold on to whatever you've got, be hyperprotective, hunker down. These are healthy instincts, and not to be ignored. The last thing you want is to be sitting around in a year feeling even more trapped than you do now because you've run out of savings and no one's hiring.
Still, I relate to what you're going through. I also hit an inflection point in my career around age 30, and for a while I felt like I'd really lost the plot. (When I did eventually quit my job later, I saved up a bunch of money first too. It wound up being less necessary than I anticipated, but it helped quell my anxiety.) I think it's natural to have painful periods of self-evaluation, especially in your late 20s and early 30s, when you've put in a lot of grunt work but haven't seen the payoff yet. If your experience is anything like mine, it's going to be uncomfortable for a while.
Regardless, you should still feel like you're doing something about your situation, even if that means sticking it out at your job for a little longer. I encourage you not to look at this as a binary decision — stay versus go, suck it up versus take a break. Rather, you need to create a clearheaded process for evaluating the amount of risk you're willing to take on, and then preparing for it.
That process can be boiled down to four steps, says Amanda Clayman, a financial therapist and financial-wellness advocate for Prudential. "Step one is gathering information. What are the knowable facts about your situation? This would include things like your current salary, fixed expenses, and how much savings you have." While you're at it, where will you get your health insurance after you quit, and how much it will cost? What's your credit score? How much do you have saved in your 401(k)? You want to survey your full financial picture, even the uglier parts, to cut out any unnecessary surprises.
The second step is to brainstorm all your options and generate new ones if you can. For instance, it might be worth sniffing around to see if your company might be willing to lay you off, which would make you eligible for unemployment benefits. You should also think about less savory possibilities — like, could you move someplace cheaper if you needed to? Where would that be? What would you do if there were a financial emergency? What's the very worst thing that could happen, and what would you do about it? What kinds of work would you be willing to do if you're really strapped?
This might sound counterintuitive, but going down these disaster rabbit holes will ultimately give you more agency. "One of the dysfunctional ways that people engage with their money, especially when they're stressed, is to think of it as a solution to their problems — the easiest way to make a bad emotion go away," says Clayman. "The problem with that way of thinking is that it's very linear, and if you get stuck, you feel like you have to go back to square one. But when you generate as many options as possible, analyze the pros and cons of each, and identify a plan A, a plan B, and a plan C, then you'll have an easier time letting go of something that's not working."
The next step is to pick one of those plans and prepare for it. It sounds like you started doing this already last fall, when you began saving up to quit. What'll be different this time around is that you'll have made more room for uncertainties. I have a feeling you'll realize that you need to save up more before you quit — ideally, closer to a year's worth of cash. This may not be what you want to hear right now, but it will ultimately make you feel more invigorated and in control.
Finally, step four is action — which, ironically, brings you back to step one. "Once you pull the trigger, you're back in the place of gathering information, making sure that the new scenario is working," says Clayman. "This keeps you in a loop that's sustainable and dynamic, as opposed to trying to solve emotional distress by tweaking something in your environment to try to make the feeling go away." Or put another way, hoping that saving a magic amount of money will fix your career ennui.
In reality, quitting your current job won't solve your problems — it will just create different ones that seem more manageable to you. And that's a good thing, provided you're fully aware. Ultimately, none of this will be easy, but it can be incredibly life-affirming to realize that a job isn't just something you have to "get through" because you think it's the best you're going to get.