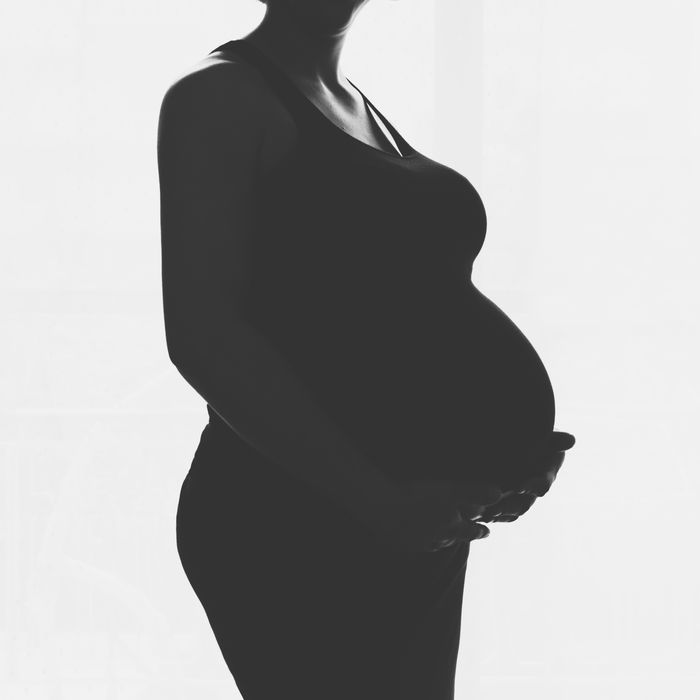 Photo: Getty Images/iStockphoto
Prison is one of the worst places for anyone to be during the coronavirus outbreak, but it's especially unsafe for pregnant women. The conditions are so crowded and dirty that social distancing is laughable, and medical care is notoriously subpar.
Even in non-pandemic times, expecting mothers are not treated well behind bars. They are forced to eat unhealthy food, denied critical prenatal care, and — in the worst cases — give birth alone in their cells. In 12 states women can still be legally shackled while delivering and in most of the U.S., they are separated from their newborns after a few hours or days.
As some governors let prisoners out to prevent furthering the spread of the virus, legal advocates say pregnant women should be a priority. The desperate need for this group's release was underscored at the end of April, when a mother with COVID-19 died in a federal prison after giving birth. Yet only a handful of states are sending these women home.
At the beginning of May, New York governor Andrew Cuomo announced that expecting moms would be released from prison if they had been convicted of nonviolent crimes and had less than six months left on their sentences. Legal advocates pushed back on these restrictions, demanding that all ten pregnant women being held at the Bedford Hills Correctional Facility, the only New York prison with a nursery, be sent home. Three weeks after this announcement, four pregnant women and eight new moms are still detained because they do not meet the governor's criteria, according to New York State's corrections department.
The Cut spoke with Candace, a 31-year-old who was released on parole from Bedford Hills last week, about the filthy conditions she was forced to live in, and the fear of becoming deathly ill before giving birth.
When I was arrested in 2018, I had been homeless on and off for about eight years. I was addicted to heroin and would get with drug dealers because they would support my habit and have a place for me to sleep.
I ended up getting offered a stolen credit card. I'd rather not say from who. The person said, "Use this card, buy these items, and I'll give you drugs." That was like a golden opportunity for me. I surely wasn't thinking, "Well, swipe that card and you're gonna go to prison." I was thinking, "I don't have to worry about being sick or not high for a set amount of time." So I used it probably like ten times.
I was nodding out at a Price Chopper after getting high, and a manager called the police. The officers recognized me and said, "Here's who we've been looking for." They must have all watched the store video of a Caucasian, 5'2" brown-haired woman using a stolen card. I was charged with identity theft and given a sentence of up to four years.
In 2019, when I spent two months in jail, I didn't know I was pregnant. I had a hunch because my last period was more like spotting. But I took a test and it came back negative.
I already had two kids with an abusive ex-boyfriend whom I met when I was 18. I got sober and decided to leave him a few years later, after my daughter was born. But I was still in contact with him, and when he started using drugs again, so did I. I lost custody of the kids and they went to live with my parents. My son was roughly 2 years old and my daughter was 8 months. I didn't have a relationship with them after that.
When I was transferred to prison last December they gave me another pregnancy test. It came back positive. I was already a few months along. The father is a friend of mine I'd known for years. It was a casual encounter that ended with a baby.
I think I probably went through every emotion in the dictionary. I was excited once I decided to keep the baby, because at first I wasn't really sure about that. I didn't know how long I was going to be in prison. But once I got the sonogram a few weeks later and heard her heartbeat, it was over. I knew she was mine.
Before the COVID outbreak, pregnant women like me were mixed with the general population at Bedford Hills, which is a maximum-security prison. Even though I'm a low offender I was held there, since it's the only state facility with a nursery. It was definitely a mind screw. I didn't feel safe at all. A lot of people have life sentences of ten to 20 years. I got my stuff taken quite a few times. There were a few fights.
Around March 11, they shut down visits to Bedford because of the coronavirus. I had heard about the disease from a current-events group in prison where we talk about the news. I was definitely nervous. I was nervous about dying. I have hepatitis C and a compromised immune system.
Then the virus started hitting the prison. A girl I knew was one of the first people to test positive in early April. She worked at the front gate and would deliver supplies like toilet paper to our unit. She was coming into contact with a lot of officers. I was scared crapless.
By then, nine of us pregnant women had been separated from the others. Nobody explained the situation. We just got uprooted one night. On March 22, I think, we were sent to a unit that hadn't been used in 20 years. There was no plumbing. The showers didn't work and we weren't allowed to use the sinks. We had no phones or TV for at least three days, which really worried the women who were almost due.
I was pretty well freaked out at that point. There were stains everywhere. When the staff came to unclog the drains, they left what looked like gravel and hunks of plaster in the tub and all over the floor. We were left to clean it up.
It was really stuffy because the windows didn't open. It was hard to breathe because it was just stale air. It smelled like sulphur.
Even though we were separated from the others, there were officers and nurses coming into our unit. The same nurses who were treating people with the coronavirus. Right now there are roughly 40 confirmed cases in Bedford Hill. We were worried about being infected but felt powerless. There's really nothing you can do.
(A spokesperson from New York State's corrections department denied Candace's account. He said the agency has made "great efforts to keep these individuals safe," which includes limiting the number of staff who are in contact with mothers, babies, and pregnant women.")
On April 16, I went to Westchester Medical for a sonogram, the hospital that used to be in the epicenter of the outbreak. Then I had to be quarantined for four days back in the prison. They put me in the RMU (regional medical unit), across the hall from four women who had tested positive for the coronavirus. I'm literally ten feet from them. I knew one of the girls and she was like, "Oh my God, Candace, you won't believe it. I have the corona." I was like "Am I in a freakin' horror movie right now?" The nurses who were delivering my food were delivering their freakin' food. I'm supposed to be kept safe and you guys put me here? I was like, this can't be real life right now.
Fortunately within 24 hours they moved me to a trailer. I understand it's a learning curve, but I was in shock about how there was just no structure to what was happening. It seemed so chaotic, like nobody knew what the frig they were supposed to be doing.
Things got even more serious when a woman died in our facility on April 28. And then we heard about the pregnant woman in Texas who delivered her baby and then passed away from the coronavirus. Could you imagine having a baby and then you die? It was just freakin' terrifying. We thought, "If one of us gets sick we're all going to get it." That's when I was thinking, "They need to get us the frig out of here. Oh my God, I wish I was home."
We didn't know about Governor Cuomo's order to release some pregnant women from prison until the first few girls were sent home in early May. We were super excited. Everybody was crying. I assumed we were all getting out. I didn't know it was gonna be anywhere near the complicated process that it was. No one told us anything about how it worked.
A few women ended up having their babies before they could go home. I was so anxious. I had been growing my nails and bit them all off again. As people were released we were trying to figure out, "Okay, what was their qualification?" — like trying to solve a math problem without an answer.
I was sent home on May 18. I was bawling my eyes out when I heard the news. I was super happy but at the same time, my heart hurt for the pregnant women still stuck there. One is supposed to give birth in June. One is in prison because of a parole violation — she broke curfew and is having a baby in July. I was just as sad for them as I was excited for myself.
The day I got out was pretty surreal. My mom picked me up and we went to McDonald's. I had a sausage, egg, and cheese McMuffin. The grease was so delicious. I cried when I saw a little ballerina dress my mom had bought for my baby. She's due on June 15. Last time I went to a sonogram appointment I found out she weighs four pounds, one ounce.
Now I don't have to give birth with an officer standing next to me. I don't have to worry about my mom being able to visit.
What if visits don't come back? These women are gonna have their freakin' kids and their families are not even gonna be able to come and visit them. It's insane. We should have all been able to walk out of those prison doors together. We all make mistakes, but these women are genuine. All they're worried about is their kids.