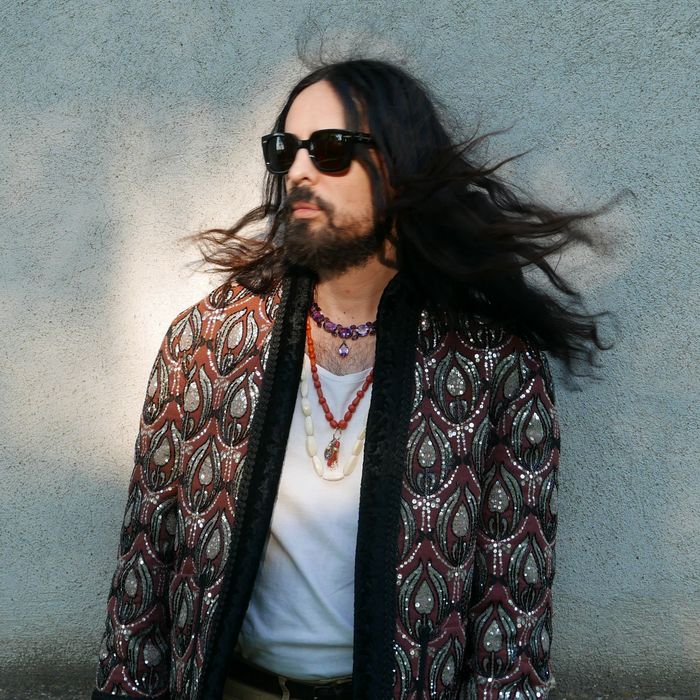 Alessandro Michele, in freer times.
Photo: Courtesy of Gucci
Alessandro Michele of Gucci has something to say, something long overdue. "Having two shows," he said on Monday morning, "in autumn and spring, is more than enough."
It was just after 9 a.m. on Memorial Day Weekend, but when the creative director of one of the biggest fashion brands on Earth, the jewel in the Kering group's (né Gucci Group's) crown, wants to talk, you show up. I did; so did a handful of colleagues from the New York Times, Women's Wear Daily, Vogue, and a handful of others from around the world. There were about 20 of us in all, video-conferencing in. At least one spoke from what appeared to be a very nicely manicured garden. Denmark was on the line, London was on the line, Switzerland was on the line. Michele was in his office in Rome, a tasseled, mushroom-shaped lampshade just behind his head. He gripped a mic like a pirate radio announcer and shared the thoughts he's been having in lockdown, in his usual high-philosophic mode. "We had a lot of mysterious time available to us," he said. "I had a very important time. I had time that I never had before — I mean nobody would expect to have such time available. And I produced what you have read."
What we had read was a series of gnomic Instagram postings, which had begun rolling out in the preceding days, about the errors of the past and the possibility of change for the future. "Now we know that too furious was our doing, too insidious was our ride," Michele wrote. "In this renewed awareness, I feel the need of a different time, released from other-imposed deadlines that risk to humiliate creativity." He paid homage to the "sacred power of producing reverberations" and declared that "there will be symphonies, rhapsodies, madrigals, nocturnes, overtures, concerts and minuets in the constellation of my creative path."
Michele can be florid when left to his own explanations. For a more plainspoken translation, see above. Gucci had been doing five shows a year — two each for women's wear and men's wear, plus an itinerant Cruise show, which in recent years has been held in Rome, Arles, Florence, and even Westminster Abbey, and had been scheduled this year for San Francisco before being canceled at the beginning of March, but now, the brand resolves to reduce their number to two, which will be co-ed and seasonless. There will not be a show in September as previously scheduled, but what would have been the Cruise collection will be shown digitally during Milan's Digital Fashion Week on July 17. Out with the old: It will be called "Epilogue." "I felt that we needed new oxygen," Michele said. "To allow this complex system to be reborn."
The industry has been talking for years about slowing its racing pace, and the escalating competitiveness of its largest players' ever-larger and more-expensive shows. Gucci is not the only brand to call for a change — a group spearheaded by Dries Van Noten has circulated a open letter that fashion's showing and deliveries must be shifted to align better with the actual selling and calendar season — but it is a large company within a large group. It is not impossible to imagine that if it works — whatever that may mean — the rest of Kering could follow. "We have some rules in fashion  that we have been using for years, but maybe they're no longer appropriate," Michele said. "Maybe we will have to change our skin several times. This is fascinating."
Michele said he remained passionate about fashion shows, but couldn't say whether future ones would be before a live audience or not. "Maybe we'll come to realize that fashion has really  changed and now we are not doing things just for buyers, stores, and you as specialized journalists or people in the fashion industry only," he said. "The fashion world has become sort of Woodstock, open to a huge audience. We are followed by many people who have never entered our stores. They are passionate about us." (Until they can enter the stores, there is the online store, and Michele added that it will be getting a new section for them: Gucci Mx, after the gender-neutral honorific, will consist of clothes not categorized as men's or women's.)
Despite the massive changes instigated by the Covid-19 pandemic, Michele insisted he remains optimistic for the future. Slowing down has made him introspective, and he waxed poetic on the essential unity of life. "Very often I went to spend some time on my terrace, where there are many plants and flowers," he said. "I take care of them on a daily basis. For the first time I realized there was no difference between me and a rose. A rose that was blooming in its most beautiful phase. We were still, both of us, with the whole planet." It was a lovely fantasy, only slightly bruised by the appearance, at the end, of an assistant to take away the mic, who still needed to wear a surgical mask over her nose and mouth.