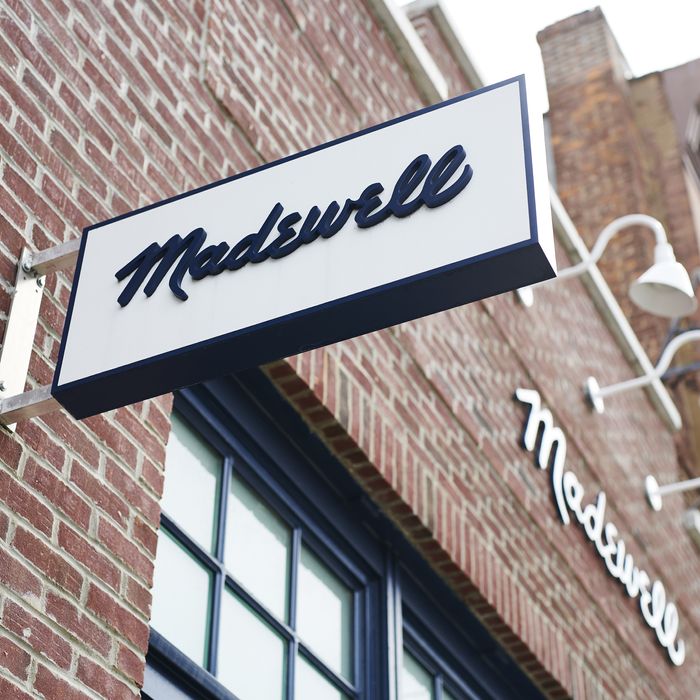 Photo: Bloomberg/Bloomberg via Getty Images
This week, J. Crew Group became the first major fashion retailer to file for bankruptcy amid the coronavirus pandemic. Its namesake brand had already been in decline for years, leaving the company with a billion-dollar debt. But its younger offshoot, Madewell, which is also under the J. Crew Group umbrella, seemed to be doing fine, with a loyal following and consistent growth. While some are sharing nostalgia for the heyday of the J. Crew blue gingham shirt, Madewell fans are left wondering: What does this bankruptcy mean for the future of their favorite jeans and leggings?
When Madewell first opened in 2006, it promised "real, honest women's clothes" for 20 and 30-somethings. "Not too trendy, not too girly, just cool clothes infused with a modern upbeat attitude," read a press release at the time. In other words, Madewell sold basics before the term had a start-up-y tinge to it. Its style was loosely defined and democratic, but not invisible. There was no lead designer or face of the brand, like Jenna Lyons at J. Crew, but I remember my friends and I still eagerly awaiting the release of each season's look book.
Madewell was also decidedly more casual than its buttoned-up older sibling at a time when dress codes in general started to become more lax. You could wear your Madewell jeans on the weekend and to work, along with other Madewell products like easy-but-smart blouses, dresses, shoes, and leather bags.
Instead of growing into J. Crew, I found myself growing up with Madewell. True to the company's heritage, there always seemed to be a sale, but discount codes rarely offered more than 25 to 30 percent off. (This has obviously changed during the pandemic.) As a result, Madewell products maintained some allure of affordability and value. I was willing to shell out $100-something for a pair of high-waisted flare jeans because I thought they would last. They have, and I still would.
Beyond product, Madewell also adapted well to the age — digitally and spiritually speaking. I always felt well taken care of at the Soho store, which resembled a townhouse, by friendly retail associates around my age. (By comparison, J. Crew's women's store felt more austere, and could have been anywhere.) When I didn't feel like trying jeans on in person, online shopping was painless. The brand tried to keep up with issues like size inclusivity and environmentalism. And most important, Madewell always somehow kept its ethos intimate and personal, even as it grew in popularity and size. Promotional emails, Instagram captions, and the sign outside the door spoke to me like an in-the-know friend. J. Crew meanwhile, remained exasperatingly sunny.
Thankfully, the terms of Chapter 11 bankruptcy protection allow both J. Crew and Madewell to remain fully operational, although now in the hands of J. Crew Group creditors. All stores will remain closed during the shutdown, but with plans to reopen in the future. In the meantime, both brand's e-commerce platforms are still up and running.
"Throughout this process, we will continue to provide our customers with the exceptional merchandise and service they expect from us, and we will continue all day-to-day operations, albeit under these extraordinary COVID-19-related circumstances," said Jan Singer, CEO of J. Crew Group, in a press release on Monday. "As we look to reopen our stores as quickly and safely as possible, this comprehensive financial restructuring should enable our business and brands to thrive for years to come."
Madewell declined to comment on the future of its business, or any internal restructuring — which J. Crew has seen far too much of over the years, along with a slough of bad business decisions, and a loss of brand identity in general. Let's hope that J. Crew's mistakes don't get repeated at Madewell, and that Madewell continues to differentiate itself. It would be a shame for them to go down together.