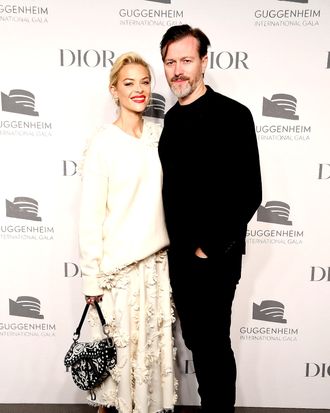 Jaime King and Kyle Newman.
Photo: Nicholas Hunt/Getty Images for Dior
Jaime King is getting a divorce from her husband of nearly 13 years, director Kyle Newman. According to People, the 41-year-old actor also filed a domestic violence prevention petition in Los Angeles on Monday. A judge reportedly granted her a temporary restraining order against Newman, 44, barring him from coming within 100 yards of her, at least until a hearing on June 8. Meanwhile, an emergency motion she filed with her divorce papers, having to do with custody of the couple's children — 6-year-old James Knight and 4-year-old Leo Thames — and visitation, was "denied without prejudice."
"She's distraught," a source allegedly close to King told People.
King, who stars in Netflix's post-apocalyptic zombie series Black Summer, and Newman married in 2007. They originally met roughly two years before that, on the set of Fanboys, which Newman directed, but King has said they didn't start dating until about six months after filming. At the time of her wedding, King reportedly told InStyle Weddings, "I don't know why, but some part of me was instantly connected to him."
During the coronavirus pandemic, however, rumors have circulated about the pair isolating apart — way apart, as in, multiple states apart. On Sunday, celebrity gossip blog Perez Hilton reported that, while King remained in L.A., Newman decamped to Pennsylvania with their sons. Us Weekly is already describing the couple as "estranged," although neither have commented publicly on the status of their relationship.