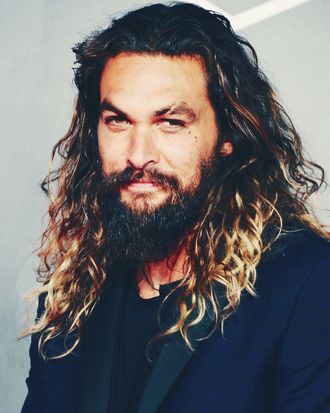 Jason Momoa
Photo: Jon Kopaloff/FilmMagic
The idea of getting a husband usually feels pretty pointless, but it feels even more so when I remember that Jason Momoa is really the only husband who is worth having. The list of reasons why is endless, but I'll start with a recent video he posted of himself on his Instagram Stories.
He appears shirtless, muscled like some kind of ancient deity. His long hair is up in a bun, and one of his massive hands is gripping, like, ten tomahawks. "Teaching my boy the ol' no look huck," reads a caption, as he proceeds to throw the tomahawks at a target without looking.
Now, he doesn't make most of the shots, but that's not the point. The point is, why should I ever get a husband if he isn't going to teach my children how to throw tomahawks? If I ever have children, I'd want for them to grow into great warriors, and the only person who seems capable of training them is Jason Momoa. He isn't baking bread in quarantine (although he probably knows how). He's building obstacle courses for his daughter so she can learn how to ride a bike and throw an ax at a target:
I mean, come on. I love my partner, and I'm sure you love yours, but honestly, it's hard to make the case that there's a better husband out there. And it's not all motorcycle riding, rock climbing, guitar playing, beer drinking, and surfing. Jason could also teach my children how to dance, and cook, and respect the earth, and be completely obsessed with their wives. He could even teach them how to iron their clothes:
And, on top of it all, he's six-foot-four?! Who can argue with that?