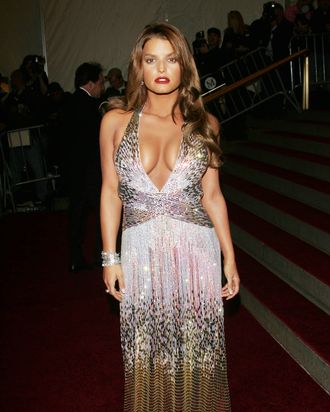 A fairly tame Met Gala look, all things considered.
Photo: Evan Agostini/Getty Images
Memory is, of course, subjective. Place two people at a big event together and then ask them what happened 13 years later, and you are bound to come up with slightly different stories. This is, I imagine, particularly true if the event in question is the Met Gala — reliably a bastion of naked dressing — and you are, for whatever reason, reminiscing about celebrity breasts. Does that help explain the rift in how former Vogue creative digital director Sally Singer remembers Jessica Simpson's 2007 Met Gala experience, and how Simpson herself remembers it? Eh, maybe. Then again, maybe not.
With the Met Gala having taken a time out this year, in line with social-distancing requirements, Vogue instead presented an "oral history" of the party, calling on famous attendees, designers, and people who've played a role in the gala's production to share their memorable moments. Among other insights, Singer shared the following:
One year Jessica Simpson was there with John Mayer. She was wearing Michael Kors and her breasts maybe fell out of her dress on the red carpet … and then at dinner it was suddenly like, whoa, Jessica Simpson's breasts are across from me at the dinner table and they are on a platter and I'm looking at them. And John Mayer was putting his hands on them at the dinner table. He kind of reached down and I just remember thinking, Oh, celebrities, feel free to play here. That's what's going on.
The, ahem, Roberto Cavalli dress in question, seen above, looks reasonably tame, particularly by Met Gala standards — e.g., Cher's 1974 look; Madonna's 2016 boob-forward lace getup; Beyoncé's bejeweled mesh dress, the queen of that year's nude-suit trend — and anyway, Simpson disagrees. In an Instagram rejoinder, the 39-year-old singer shared a photo of Sophia Loren looking disdainfully at Jayne Mansfield's cleavage, writing in the caption that Singer's version of events is "inaccurate" and "shaming."
"To read this much anticipated article about the classiest fashion event there is and have to be shamed by another woman for having boobs in 2020 is nauseating," she concluded. Indeed. Boobs! For a party! Groundbreaking.