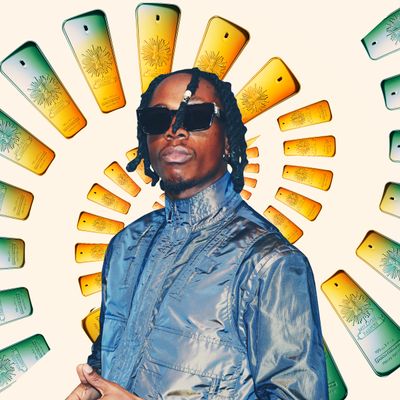 Joey Bada$$
Photo-Illustration: Gregory Pace/Shutterstock
Scientific studies confirm that, of all the senses, smell offers the best recall. In Scent Memories, the Cut asks people about the scents they associate with different times in their lives.
Next up is Joey Bada$$, rapper, actor, and the new face of Paco Rabanne 1 Million. A blend of blood mandarin, peppermint, and cinnamon bark, it recently got revamped for a new generation with saltier notes and a warmer leather accord that turn up the heat just in time for summer. The Cut caught up with Bada$$ to talk ocean breezes, palo santo, and Sour Patch Kids.
My first scent memory is: Incense in my grandmom's house. I used to be like, What the fuck is that? Why is this a thing? I hated it and now I absolutely can't live without it.
Happiness smells like: Mon-ey! Nah, happiness smells like when you walk into a bakery; when you just know you're about to be satisfied.
Love smells like: When you're approaching a bonfire, you know what I mean? You're being attracted by this smell and this sight, and you also feel so warmed by it.
Friendship smells like: Anything that is bittersweet, because that's what friendship is. It can be sour or sweet. Maybe some Sour Patch Kids.
Heartbreak or loss smells like: A funeral home. There's a smell there that I can't really describe, but there's always a particular smell in a funeral home.
Success smells like: Ocean water, because success makes you feel boundless, and that's what I think about when I think about the ocean.
Regret smells like: Probably somebody defecating. I mean, shit, wouldn't you regret smelling somebody defecating? I know I would.
The worst smell is: Probably somebody else defecating, you know? My shit don't stink [laughs], but other people's …?
Vacation smells like: That same ocean breeze, which is synonymous with success. Oftentimes when I'm vacationing, I also feel that success. If I'm vacationing, I'm gonna ball on vacation.
Sunday morning smells like: Breakfast, because on Sunday morning I'm more likely to eat it. Croissants, some toast with some cinnamon sprinkled on top. You know, some eggs, some hash browns, and then a nice little fruit medley. It gotta be a medley though.
Monday morning smells like: Money. It's time to go get it. I love Monday mornings. I'm recharged.
My home smells like: Incense and palo santo.
My favorite food smells like: Curried salmon.
If I could have one smell on my hands forever, it would be: Cookies or cookie batter. Like a snickerdoodle though — shit has to be plain; I don't like chocolate.
I smell like: One million. One Million by Paco Rabanne.