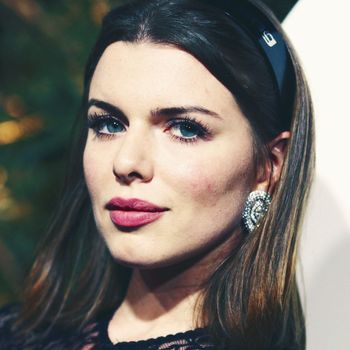 Photo: John Salangsang/Shutterstock
Julia Fox, the retired party girl and shining star of Uncut Gems, has been buckling down in isolation. According to a new interview with "Page Six," the the self-described "thoroughbred New York biotch" has not trifled with baking sourdough over the last few months, but has actually spent her newfound alone time penning a memoir.
"Quarantine has given me the chance to kind of look inward and be a little more introspective and kind of remember who I am and what I always wanted to do before I got sidetracked," she told the outlet. Adding: "Usually, I'm a person that can't really stay still for too long."
Although the 20- or 30-something (she seems to follow the Mariah Carey rule of time) has only been on this Earth for a short while, she's had more experiences than most do in a lifetime. One would hope her upcoming memoir elaborates on her time spent as at a Catholic school girl in Lake Como, Italy; her roles as a dominatrix, knitwear designer, model, and photography book author; and her 2017 art show titled "RIP Julia Fox," which featured canvases painted with her own blood. (That also might serve as a good memoir title, no?)
"I just started [writing] in quarantine, only the first chapter but it's long, and I'm about to rework it and everything," Fox told "Page Six." "I want to kind of change it a little bit, just the structure and overall composition."
Can't wait to read.