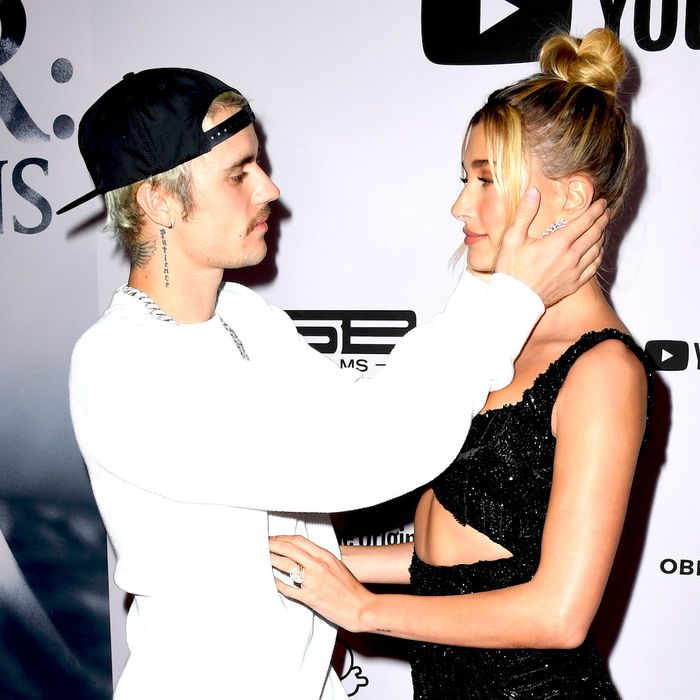 ?!?!
Photo: Jon Kopaloff/Getty Images
Justin Bieber, as you know, loves discussing his marital bed in public. He simply cannot stop! Whether he is telling a room full mostly of strangers that sex with his wife, Hailey Bieber, "gets pretty crazy," or bragging to his Instagram followers about how Hailey "always says" he's "got good hands," or tugging Hailey out of his own album-release party with a winking explanation that "things are about to get pretty freaky," this man refuses to keep his thoughts to himself. But in a recent Q&A on his Facebook Watch series, the 26-year-old singer took a decidedly more sober tone. Sex, he mused, "can be kind of confusing." Hm. Say more!
During the AMA segment of their weekly "The Biebers on Watch" show, one viewer asked the couple if they had any regrets or things they would do differently, if given the chance. Bieber then admitted that there are "probably a lot of things I would change."
"I don't regret anything because I think it makes you who you are, and you learn from things," he said. "If I could go back and not have to face some of the bad hurt I went through, I probably would've saved myself for marriage. I know that sounds crazy. Sex can be kind of confusing when you're being sexually active with anybody."
The Biebers got engaged back in July 2018, after roughly one month of dating. They spent the rest of that summer Frenching and partying and praying together — the Biebers are very prominent members of the Hollywood church scene — but reportedly abstained from having sex with each other until they officially married. Perhaps not unrelatedly, they may have expedited their courthouse wedding out of an abundance of horn. So! It looks like they figured things out eventually.