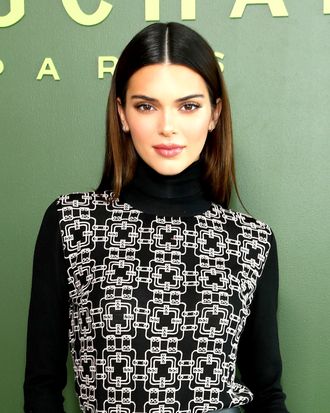 Kendall Jenner.
Photo: Cindy Ord/Getty Images for NYFW: The Shows
Roughly three years ago, somehow, a cohort of very famous influencer-models agreed to help now-convicted fraudster Billy McFarland and JaRule promote a flirty little lifestyle experience called Fyre Festival. It turned out to be a colossal scam; not the luxury Bahamian beach party promised to those who shelled out $1,000 to $125,000 for a ticket, but a spread of ersatz tents and extremely sad cheese sandwiches. Some of those so-called "Fyre Starters" have since been sued for their involvement, Kendall Jenner included. On Wednesday, she settled for $90,000, WWD reports — a much smaller sum than the one she originally received for hyping the event on social media.
Back in August, Fyre Fest trustee Gregor Messer sued Jenner — and many others — in New York's U.S. Bankruptcy Court, aiming to recoup millions paid to vendors, performers, talent agencies, and other people who helped with promotion. Jenner is said to have accepted a total of $275,000 for a single Instagram post in 2017, encouraging her followers to "get tix" for Fyre Fest using her "VIP access" discount code. She reportedly failed to tag the now-deleted post as promotion, and also insinuated that Kanye West, her brother-in-law, would be performing. Originally, Messer set out to collect the full $275,000, but according to the Wall Street Journal, her attorneys sought to avoid spending more "time and money on litigation." The $90,000 still needs to be approved by a judge.
A Netflix documentary on the catastrophic grift alleged that organizers also used Jenner's name illegally, attaching it to a yacht party that, like every other part of Fyre Fest, was never going to happen. And Jenner, meanwhile, apparently never had any intention of attending. Trying to explain her involvement to the New York Times last year, Jenner noted that "you never really know what's going to happen" on a job.
"You get reached out to by people … to promote or help or whatever, and you never know how these things are going to turn out, sometimes it's a risk," she said. "I definitely do as much research as I can, but sometimes there isn't much research you can do because it's a starting brand and you kind of have to have faith in it and hope it will work out the way people say it will."