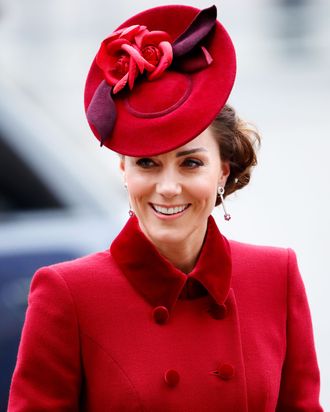 Photo: Max Mumby/Indigo/Getty Images
It appears that Kensington Palace is not at all pleased with the British tabloid Tatler, which this week ran a lengthy cover story on Kate Middleton titled "Catherine the Great." While the article spent much of its time attacking the Sussexes and praising Kate as the savior of the monarchy, it also made a number of bold claims about her life based on intel from "friends" and other anonymous sources.
Among these, several loomed large. First, the story alleged that Meghan and Kate fought on Meghan's wedding day over whether or not bridesmaids should wear tights, which the tabloid purports was the beginning of a long-running rift between them. The story also claimed that the Cambridges are angry over Harry and Meghan's exit from the royal family, and Kate is especially "furious" about having a larger workload as a result.
Apparently, Kensington Palace was not happy with the story, and took the highly unusual step of responding to it. In a rare statement to the media, the palace claims that the article "contains a swathe of inaccuracies & false misrepresentations which were not put to Kensington Palace prior to publication."
Tatler, meanwhile, defended the piece: "Tatler's Editor-in-Chief Richard Dennen stands behind the reporting of [reporter] Anna Pasternak and her sources," a Tatler spokesperson told Entertainment Tonight. The tabloid also claimed that the Palace knew they were running the story, and that "The fact they are denying they ever knew is categorically false."
The palace, for its part, has a history of staying mum when it comes to defending Meghan from the press (though the Sussexes have been locked in a legal battle against several British tabloids). In any case, it will be interesting to see what — if any — claims Meghan and Harry might support when their official biography, Finding Freedom, comes out in August.