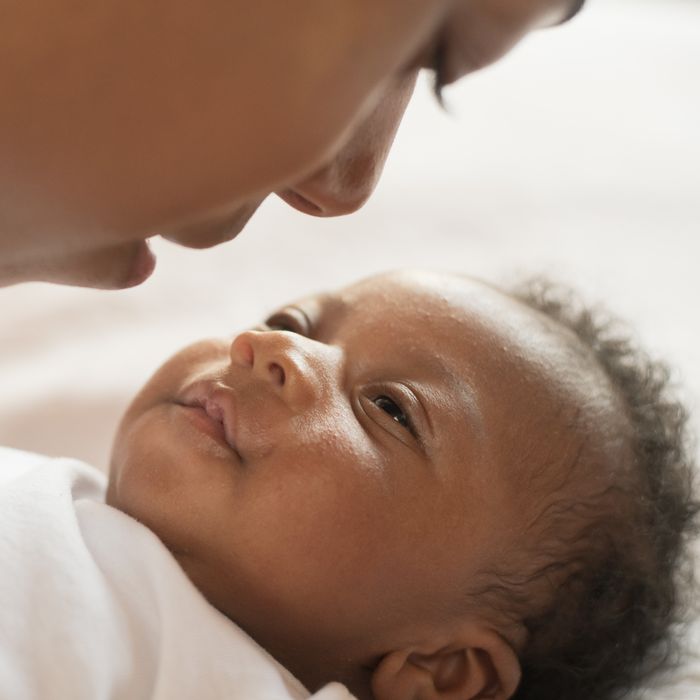 On Tuesday nights, my family plays Spades at the kitchen table. Three generations of us are sheltering in place together, and it's become our weekly tradition. Last Tuesday, I was about to start the third round when I got a text from my best friend: "Holy shit. Did you watch Marz give birth?!" I let out a high-pitched scream. My family stared at me. "I'm missing a live birth!" I yelled.
Marz Lovejoy is a model, writer, and social activist and the wife of Simon Rasmusson, a stylist and editor-in-chief of Office magazine. I've been following her on Instagram for years; I love the way she mixes personal style with discussions of important issues like motherhood and sobriety. When she announced she would be livestreaming her birth to raise money to fight America's shockingly high black maternity mortality rate, I immediate donated to the GoFundMe. And now I was missing it! I dropped my cards and ran off to my bedroom.
After I paid the $3 cover and hit play, I saw pregnant Marz in labor in a bathtub full of water. I've never given birth, I'd never seen a live birth before, and the details of the birthing video we had to watch in high school escaped my mind a long time ago. The closest I'd ever come to experiencing a birth was when my niece was born, but I spent that day waiting in the hospital lobby with my nephew.
A mixture of emotions flooded through me as I watched: anger, fear, shame, love, and joy. When she took a deep breath, I took one with her. When she pushed, I found myself letting out a low-volume grunt. The birth streamed online for a little over 15 minutes, showing Marz accompanied by her midwife, husband, and best friend pushing through to delivery. It felt beautiful to witness, but also scary. As a woman, I knew that what I was watching was important, but as a black woman, I knew it was shedding light on the sustained crisis within the birthing world.
On the GoFundMe page for this project, Marz's Live Birth Series, she shares a statistic from an NPR article in 2017 that says:
According to the CDC, Black mothers in the U.S. die at three to four times the rate of white mothers, one of the widest of all racial disparities in women's health. Put another way, a Black woman is 22 percent more likely to die from heart disease than a white woman, 71 percent more likely to perish from cervical cancer, but 243 percent more likely to die from pregnancy- or childbirth-related causes.
Home birth can be controversial; it isn't always safe. But it's worked for Marz and her husband, who have now delivered two children this way. This was the first one they livestreamed to raise money and bring awareness to black, WOC, and LGBTQ mothers and birth workers.
With the help of commissioned artwork from black and brown women in her community and a video campaign that featured notable names like SZA, Ebonee Davis, and Elyse Fox, Marz spread her message on Instagram and was able to surpass her $30,000 goal, raising $32,742. All the funds she raised will help create scholarships for black, POC, and LGBTQ women to experience home births with the help of a doula who is a woman of color. Marz also plans on awarding two scholarships to fund one midwife and one doula as they train in their respective professions.
At the end of the stream, I felt energized. I wanted to discuss childbirth with my friends who watched and my family members who were waiting on me to start the next round, but instead I sat on the bed a bit longer and reflected on what I'd just witnessed. I was blown away by the patience and calm I saw around Marz as she gave birth. That sense of peace should be accessible to all expecting mothers.