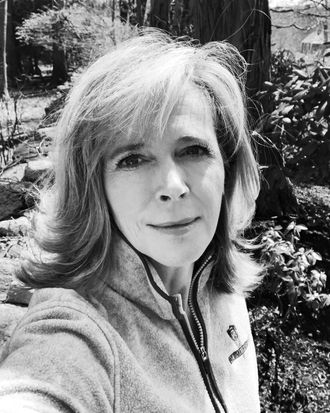 Photo: Courtesy of Linda Vester
Linda Vester was in her front yard with her kids when she got the news that Andy Lack was out at NBC. The afternoon had just turned to evening on May 4 in Bronxville, where Vester lives. One of the first people who called was another woman who had accused Tom Brokaw of harassment in 2018, part of a slew of accusations against men at the company. Lack, as NBC News chairman, has since been accused — in accounts published in Ronan Farrow's Catch and Kill — of pursuing female employees for affairs, as well as fostering a culture of impunity around harassment and gender discrimination. After the announcement of his departure, Vester's phone lit up. "My first reaction was, Thank God, the guy is a cancer," she said over the phone a few days later, a little lighter.
But not by much. Vester said Lack's removal provided only a "teeny piece" of relief. "Apparently the wheels of justice turn slowly," she said. Vester was a foreign correspondent at the network starting in 1989, before she became a correspondent for Weekend Today and anchored News at Sunrise. She left NBC for Fox in 1999, where she worked until 2005.
Vester came forward to the Washington Post about Brokaw, who she claimed forcibly kissed her on two occasions in the 1990s, because NBC had still not hired an outside investigator at that time, almost half a year after Matt Lauer was fired from the Today show (Brokaw denied he had every acted inappropriately with her). Even though Lack is gone, that's still the case, which is why she is reluctant to celebrate his downfall. Vester sees an outside investigation as the only way to really clean house at the company — and she might be getting her wish in the form of a probe by the New York State Attorney General's Office, news of which broke soon after Lack stepped down.
Vester wasn't surprised. She said she was connected to the AG's office via feminist advocacy group UltraViolet after the publication of Farrow's book, which included horrific new details about allegations against Lauer and also a possible cover-up from above, going straight up to Lack. The AG's office asked if she would talk to investigators about her own experience and connect them with other people with information about NBC. She sat down for her interview in January; Megyn Kelly, Brooke Nevils, who accused Lauer of sexual assault, and Addie Zinone, who accused him of abuse of power, have also reportedly participated. NBC News declined to comment on the AG probe, while NBCUniversal said it was "unaware" of any such investigation into the company.
"I would really be speculating," Vester demurs, when asked about what investigators may have learned in those conversations. But she said she has heard there were more men than just Lack named by those interviewed — as far as she knows, several who are still at the company. She claimed that testimony includes a mixture of "complaints, of harassment, of retaliation, of cover-ups, and, in other cases, gender discrimination." In her estimation, NBC can either "investigate or see if they're willing to gamble about information that might come out."
Vester's emphasis on transparency comes from her background as a journalist, but also from her experience as an accuser. When Gretchen Carlson filed a harassment lawsuit against Roger Ailes in 2016, Vester said her first reaction was shock — in her six years at Fox, Ailes had only treated her with respect. But because of her memories of Brokaw, which she had been carrying around for more than 20 years as he became one of America's most beloved newsmen, she knew "only too well that you can appear a certain way to some people and be a completely different person behind closed doors." Two years later, she received the opposite treatment from fellow NBC colleagues, including Rachel Maddow and Mika Brzezinski, who signed a letter supporting Brokaw the day after Vester came forward. "Tom has treated each of us with fairness and respect," the letter, signed by more than 60 women in media, read. "We know him to be a man of tremendous decency and integrity."
She and Brzezinski, a Bronxville neighbor, eventually had it out when Vester ran into her on a jog. "She really lost her temper with me," Vester says. Brzezinski and Joe Scarborough later came over for dinner, after which Vester claims Brzezinski said she believed her, though Brzezinski never publicly recanted her support for Brokaw. (When sympathetic text messages between the two were later shared with the press, Brzezinski said, "I am saddened that a personal conversation between two working mothers was so twisted out of context, and that my personal text expressing sympathy for Linda's problems at multiple networks was screenshot and sent to a competitor in an attempt to discredit me. The story is false." She declined to comment for this story.) When asked about Maddow, Vester simply responds, "I don't watch." "That letter was a signal to any other woman within NBC who dared to speak up with their complaints that they would be shamed by their female colleagues," she says. She has thought of it often in the wake of Tara Reade's accusations against presidential candidate Joe Biden. "When I saw Stacey Abrams and Hillary Clinton come out, I thought, Oh no. Have we learned nothing? What you should be saying is, 'I believe there should be a full investigation and the truth will out.'
"I'd much rather talk about something else," Vester said toward the end of our call. It was her 19th wedding anniversary, and she and her daughters had baked a cake. "This is going to sound paradoxical, but I still have a lot of fondness for the mission of NBC News. And I would like to see it be a place where everyone feels truly safe to work." The Me Too movement, she argued, is "incredibly messy and incredibly imperfect" but still, crucially, alive. And especially at NBC, where she thinks more will be revealed. "You have to remember," she said, "the women who were harmed are journalists."
Note: NBCUniversal is an investor in Vox Media, the Cut's parent company.
This article has been updated to reflect Mika Brzezinski's 2019 statement on her conversations with Linda Vester.