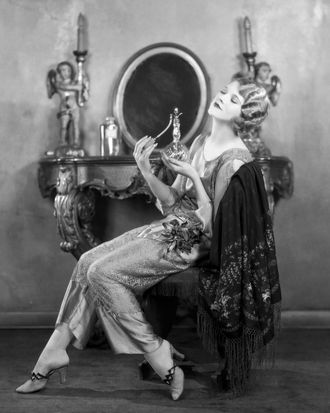 Photo: Hulton Deutsch/Corbis via Getty Images
I have an astoundingly dumb number of bottles of perfume. It's something I've always loved since I was a teenager, wearing Juice Bar body spray. I've gone through many a signature scent, from Sarah Jessica Parker's Lovely to, most recently, 19-69's Rainbow Bar. And the older I get, the more I'm attracted to unique scents that no one else will have.
But testing out a new perfume is a science. A scent needs time to sink into your body chemistry. In that time, you often discover that something which smells great in the bottle might not smell great on you. Since we've now been in isolation for what feels like 70 weeks, I realized this was the perfect time to try all the truly bizarre perfumes I've long wanted to test out, without offending the noses of those around me.
So I perused the Lucky Scent website, seeking out some those with unusual inspiration (like the apocalypse) or strange notes that I'd never normally try (like bull's blood). I ordered samples (they come in 0.7 ml) and was very excited to get my fragrant package in the mail. Here's a scent diary of some of the oddest ones I've tried. Some were successful, others made me take a cold shower, and there was one I immediately purchased.
Notes: Sangria, rose water, strawberry, brown sugar, honey, cinnamon, tobacco, pomegranate, ylang ylang, benzoin, Peru balsam, maple syrup, civet, patchouli, blood orange.
How it smelled in the bottle: It smells like a head shop or a Spencer's Gift store.
How it smelled on me: Initially, I thought it still had a "store that sells decorative scarves and lava lamps" vibe. There's also a slightly sticky element, like I managed to spill syrup all over myself. As it faded out, it got slightly smokier with a touch of vanilla, though there was definitely a note that didn't smell quite right on my body. But whatever lingered hours and hours later was great — kinda sexy and sweet.
Notes: Mint, cotton candy, seaweed, benzoin, melon, metallic notes, rose.
How it smelled in the bottle: Fruity and clean and sweet.
How it smelled on me: This one contained multitudes. When I put it on, I said out loud to my roomba, Diane, "Wow, I love this!" At first, it's like a sweetly smoky Irish Spring soap, but with a candy undertone. As it sinks in, it starts smell like bubblegum, but not in a cloyingly sweet way. Next, it fades into something slightly herbal. Then, in yet another phase, it blossoms into something so delightfully sweet and funky and smoky that I desperately wish that someone could smell me. Hours and hours later, when I got into bed, I could still smell it. I think I have to buy this one. (Spoiler alert: I did).
Notes: Red cedar, aldehydes, frankincense distillate, cypress root, black pine, cascarilla bark, incense, Spanish cade, and birch tar.
How it smelled in the bottle: It has a very strong, campfire-inflected medicinal scent.
How it smelled on my body: Initially, it had a bit of a Band-Aid smell. It made my nose burn — not in a bad way, but not in a way that I think will work on me. There's also a hint of cinnamon that makes it feel sort of old-timey. It's very gender neutral. I think it reminds me a story I wrote in third grade about a pioneer woman who started dressing like a man to rob banks and leave her abusive husband. This is what she would smell like.
Notes: Cardamom, pimento, salted butter, caramel, tobacco, vanilla, cashmere.
How it smelled in the bottle: Expensive
How it smelled on my body: It smells amazing off the bat, buttery and floral at the same time. I imagine it's what Winona Ryder smells like in Martin Scorsese's The Age of Innocence. It's really light and fresh, but with a unique note when it starts to fade out. I smell like an heiress.
Notes: Bitter orange, mojito, grapefruit, bergamot, apricot, quince, petitgrain, mandarin, fig, clary sage, cypress, magnolia, orris concrete, basil, rose de mai, orange flower, pink pepper, coriander, leather, tobacco, ambergris, patchouli, vetiver, ambrette seed, oakmoss, grape leaves, grass, sandalwood, sea salt, linden, mahogany, mastic, olive, clean shirt (blue billowy).
How it smelled in the bottle: It smells like clean laundry and a high-school boyfriend who would only touch you over the bra.
How in smelled on my body: At first, it reminded me of Irish Spring soap (but not like Doleur!) which I don't totally mind. There's a distinct laundry scent, and a very masculine musk that's appealing but isn't a scent that I think works on me. It'd probably work better on someone I'd want to make out with.
Notes: Cardamom, pink pepper, orange, cannabis notes, saffron, nutmeg, trat oud oil, woody notes, cedarwood, musk.
How it smelled in the bottle: Very herbal, and not especially like weed.
How it smelled on my body: Like I'd turned into a walking plant store, which I don't mind. Eventually it started to fade into an herbal musk, which isn't something I'd normally choose but which I really like.
Notes: Ban timmur pepper, bergamot, carrot seed, rum, wild fig, tonka bean.
How it smells in the bottle: Kinda crystal and sweet.
How it smells on my body: Like cinnamon and heat — sweet and fiery, with a dash of Christmas. As it continued to fade, it started to smell like sugar and spice. This fragrance is inspired by the end of the world, and I guess if this is what the apocalypse smells like, I'm into it.
Notes: Patchouli, rose, costusroot, tobacco, black musk, bull's blood.
How it smells in the bottle: It's immediately very spicy and musky, like what I imagine the Madonna "Take a Bow" music video smells like.
How it smells on my body: At first, not nearly as good as it did in the bottle. I smelled like a tire. It faded into a rubbery scent that makes me feel vaguely nauseous whenever I got a whiff. This is not a perfume that vibes with my body at all — I had to shower it off.
If you buy something through our links, New York may earn an affiliate commission.