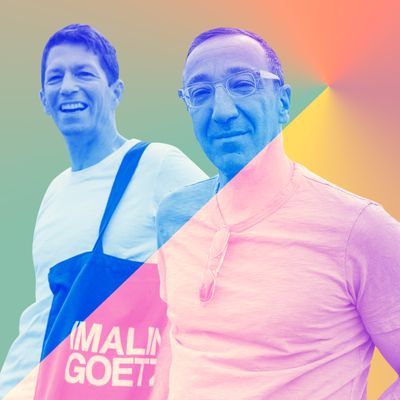 Photo: Courtesy of Malin + Goetz
Spend an afternoon with Andrew Goetz and Matthew Malin at their farm in Hudson, New York, and a few things are bound to happen. You'll get a tour of their herb garden and meet the frogs that have moved in to a modest fountain near the house (they're named Prince Charles and Prince William). Also, a tick situation might arise.
On a socially distanced visit one recent muggy afternoon, a tick did make an appearance on the neck of their rescue pug, Mr. Greenberg.
"We also have stink bugs," explained Andrew, as he deftly got rid of the varmint with a pair of tweezers. "They're called that because when they're stressed, they shoot out this odor that smells like coriander. The other day, I was gardening and one flew into my mouth, and a waft of coriander exploded inside."
Andrew and Matthew met in 1992. Matthew worked in beauty marketing (Kiehl's, Helmut Lang, Saks), while Andrew was in design at Vitra. They discovered they shared a love of the old New York apothecary and its classic glass bottles, plus an interest in skin care, and soon Malin + Goetz was born.
"We didn't want to do something pastiche, but I think all good design comes from an influence," says Andrew. "We didn't want to replicate the apothecary idea; we wanted to modernize it."
They also wanted their brand to be a love letter to New York, which is where nearly all of their ingredients and packaging comes from (or at least close by.)
"Andrew is a native New Yorker, and I remember when we first met, he would get cheese from his favorite local cheese shop, his bread from the bakery down the street. My childhood wasn't like that. Growing up in the suburbs of Detroit, we did all of our shopping at the big grocery-store conglomerate," explains Matthew. "I wanted to offer a localized approach and to embrace other mom-and-pop, grassroots, and family-owned businesses in and around New York."
In 2004, they opened a boutique in Chelsea with 11 products, including Grapefruit Cleanser, Vitamin E Face Moisturizer, Peppermint Shampoo, Cilantro Conditioner, Peppermint Body Scrub, and Hand & Body Wash, packaged in white bottles bearing Swiss 721 font.
Over the next 16 years, they expanded to 15 more locations worldwide, but their current focus is online, where their Cannabis collection has risen high (pardon the pun) above the others. It even includes a hand and body wash with the fragrance, which Andrew may be using a bit too zealously.
"I can't get into my iPhone because my thumb print has been washed away," he marvels. "I have to put my pass code in every time."
Malin and Goetz spoke with the Cut about the design they love, the shows they're binge-watching, and the sweatpants they think are nearly office-worthy.
What's your definition of beauty? 
Andrew: Beauty is about discovering and celebrating something aesthetic. It is often straightforwardly physical and intellectual, but can be most rewarding when it's emotional and spiritual.
Matthew: I am attracted to aesthetic innovation, creativity, and individualistic style. I care less whether it is natural or man-made.
What do you think when you hear the term "clean beauty"? 
A: Clean beauty is the idea of healthful and environmentally responsible beauty products. An extremely noble aspiration, often hijacked by slick marketing departments and misinformation.
M: "Clean" as a marketing sound bite is overused and without clear meaning. However, people do need to be educated on gentle solutions, efficacy, and safety, without hyperbole. That is how I like to think we have positioned our own brand.
Where, if anywhere, in your routine are you not quite that clean, green, or sustainable?
A: We always try to be as clean and green as possible. Life under quarantine has helped us hone our skills. Ironically, it's really difficult to be Über-green when we are forced to buy lettuces and berries in those awful plastic clamshell boxes. We buy organic, but it's packaged in the worst environmentally possible packaging — drives me nuts!
M: I am not afraid to use a product with parabens as preservatives. Based on customer demand, we do not include them in our own brand, but I think they get a bad rap.
Please fill in the blank as it pertains to your beauty or wellness routine: I think about _______ a lot. 
A: Hand-washing.
M: Face-washing.
What is the opposite of "beautiful"? 
A: Donald Trump.
M: Something that is not personally appealing.
What is your morning skin-care routine?
A: I usually just wash my face with a washcloth first thing in the morning. My skin-care routine doesn't begin until I'm back from the gym. I hop in the shower, wash my face with our Grapefruit Face Cleanser, shave with our Vitamin E Shaving Cream, and moisturize with our Advanced Renewal Moisturizer. On the weekend, I'll slip in our Enzyme Mask.
M: My morning routine and evening routine are the same. I wash my face with Grapefruit Face Cleanser and follow with Replenishing Face Serum to spot-treat specific areas of dryness (around my nose or patches of seborrhea near hair). I have a topical rosacea med I use to spot-treat areas. Then, I apply Vitamin E Face Moisturizer to the drier areas of my face, avoiding the T-zone where it's not necessary.
What's the last product you use every night? 
A: Our Replenishing Face Serum.
M: Our Vitamin E Face Moisturizer.
What, if anything, is usually on your lips?  
A: Things I'd like to say.
M: Nothing, but when they're dry, I use M+G Lip Moisturizer.
Facial cleanser of choice:  
Both: Malin+Goetz Grapefruit Face Cleanser.
Fragrance of choice: 
A: Malin+Goetz Leather.
M: We make a fragrance oil called Synthesized Musk. It was made for me 15 years ago; it's the ultimate in subtlety.
Razor or choice: 
Both: Gillette Sensor Excel.
Shaving lubricant of choice: 
A: Malin+Goetz Vitamin E Shaving Cream.
M: Same, although I have used our Cilantro Hair Conditioner in a pinch.
Hand sanitizer: 
A: Whatever I can get my hands on.
M: We were creating one before the pandemic, and I've been using our samples. Together, they smell like an herb garden.
Bath or shower: 
A: Shower, with our Bergamot Hand & Body Wash.
M: Shower, with our Eucalyptus Body Wash. It smells great and eucalyptus is known to be antibacterial.
Deodorant of choice: 
A: Malin+Goetz Eucalyptus Deodorant.
M: Same, but we are getting ready to launch a new version in bergamot.
Hand lotion of choice: 
A: Malin+Goetz Vitamin B5 Hand Moisturizer.
M: Our Hand Moisturizer in Geranium.
Shampoo/conditioner of choice: 
A: Malin+Goetz Peppermint Shampoo, Cilantro Conditioner.
M: I use our Dandruff Shampoo and alternate between our Cilantro Conditioner and Intensive Hair Conditioner, when I need more.
What beauty/grooming product do you think still needs to be invented? 
A: A luxury anti-tick shower gel.
M: I can see improvement for toothpaste, laundry detergent, and dish soap. These are areas of interest for me.
What was your first grooming product or fragrance obsession? 
A: Neutrogena glycerin bar soap. I was 18 when I discovered that you could wash, shave, and shampoo with it.
M: Definitely fragrance from a young age. My first obsession was in college when a friend was wearing Santos de Cartier. I wore it for the next four years. It was my first signature scent and repeat purchase.
What overused beauty term are you, well, over? 
A: "Anti-aging." First of all, it's not about not aging, it's about aging with grace, dignity, and aplomb. Sure, we all want to assuage the appearance of aging badly or prematurely. I'm a proponent of aging healthfully. That's very different from anti-aging. Since we can't stop the aging process, it's best to focus on how to do it well.
M: "Beauty." It seems so out of date and not inclusive.
Daily carry-all of choice: 
A: I mostly throw all my gear into a Herschel Rucksack (gray), but when I'm feeling fancy I bring out my Jasper Morrison designed valise by Maharam.
M: We have our own reusable M+G cotton bags in a variety of colors. They are great for EVERYTHING.
Who makes your eyeglass frames?  
A: Sol Moscot.
What's your bedroom like?
A: Up in the country it's really bright. And we are not fans of window treatments, so we are up when the sun comes up, as we face east.
M: We do have blinds but nothing crazy. We mostly use Frette or Mateo sheets. I have a thing for bed linens.
What's your living room like?  
M: Simple and a mix of traditional and modern. We just love great design and are happy for things we love to be near one another.
What is your current "sheltering" daily uniform?
A: Levi 501's (I do not wear sweatpants), white Brooks Brothers T-shirt, and a woolly sweater along with Hunter Wellies.
M: Is this a trick question? Yes, I have the sweats — Champion, H+M, Adidas — but I find that sometimes I want to put something nice or fancy on. ATM, Vince, James Perse — all easy and comfortable but make me feel like I may be going to an office.
What do you own too many of? 
A: T-shirts.
M: Shoes.
What beauty-related reality show, if not invented yet, would you watch? 
A: Perfecting the home haircut.
M: I really dislike reality shows. I cannot think of one I have watched to the end.
What TV shows have you been or are currently binge-watching during this sheltered time? 
A: Ozark, After Life, Deutschland 83 and Deutschland 86, Mrs. America, Normal People.
M: The Last Kingdom, Unorthodox, Mr. Selfridge, Ozark, and I have been finding old '80s movies to rewatch: Valley Girl!
What new hobby have you picked or, or started doing again? 
A: Cooking!
M: Gardening and more gardening. Every waking moment. This is the first spring we have been in our garden daily and without a miss. Silver lining.
What are you growing this year? 
A: In the kitchen garden: various lettuces, kale, Swiss chard, asparagus (trying), string beans, radishes, carrots, basil, dill, coriander, parsley, rosemary, sage, English cucumbers, various varieties of tomatoes, broccoli rabe, cauliflower, beets, and pumpkins. I'll let Matthew handle the flowers and fruit.
M: We've been planting fruit trees: pear, cherry, peach, mulberry, crab apples.
What was the most recent interesting conversation you had? 
M: Andrew keeps me on my toes daily, challenging most ideas and thoughts — never a dull moment.
What song is usually in your head?  
A: These days, a lot of Leonard Cohen.
M: So, the other day I was in the car and Marshall Tucker's "Heard It in a Love Song" was playing. I purchased it and have been listening. I have always loved that song. Classic.
What would the name of your autobiography be? 
Both: The Grass Is Greener on the Other Side of the Berg.
Who would you like to star as you in the film adaptation?  
A: Sean Penn.
M: Daniel Day-Lewis
Favorite smell? 
A: Roast chicken.
M: Rose.
Least favorite smell? 
A: Durian.
M: Burning rubber.
What do you think Pantone's color of 2020 should have been?
A: Corona red.
M: Something soft and uplifting like sky blue.
What do you most often disagree with others about?  
A: New York.
M: Politics.
What can't you leave alone?  
A: Weeds.
What must you adjust or fix when you see it done incorrectly?  
M: The organization of our home — I like things a certain way and to look beautiful around me.
Favorite CBD product:  
A: Our CBD dog treats — they really help Mr. Greenberg.
What calms you down?  
A: Xanax.
M: Organizing our home.
Comfort food: 
A: Spaghetti carbonara.
M: Pizza.
Most impressive dish you make: 
A: Chicken piccata.
M: I can bake a cake.
What food would you never eat? 
A: Whale meat.
M: Liver.
Who or what is guiding you toward how you're going to navigate your business going forward?  
A: Reason.
M: Retail is always about listening to your customers.
What do you foresee as the top beauty trends for the second half of 2020?   
A: Hand sanitizer.
M: Skin care is a focus and is emerging. We are home and on video and want to look good and feel good. Skin care offers this and is accessible.
What product in your brand's product domain is misunderstood and should be a best seller? 
A: Jojoba Exfoliating Cleanser. It's a gentle exfoliating scrub and a cleanser all in one. It leaves your skin gently polished and looking incredibly healthy. We've done a really bad job of getting the word out. It's an amazing product.
M: I agree, Jojoba Exfoliating Cleanser. It is both so effective as a gentle milky cleanser (that really cleans) and exfoliator (that does not irritate). It is also hydrating and thorough for the long haul rather than the quick fixes and harsh formulas that overpromise.
What product in your brand's product domain is currently your favorite? (Understanding that this could change all the time.)
A: Advanced Renewal Moisturizer. It's lightweight, but really nourishing. It's great for all seasons, and absorbs really quickly without any residue, and most of all, it works amazingly well.
M: It is always the same: Grapefruit Face Cleanser. It is gentle, thorough, and balancing or hydrating without drying or stripping. Having these ying-and-yang attributes coexist in one single product is an achievement that I take advantage of daily.
What activity do you do when this new stress becomes too much? 
A: Go for a run, weather permitting.
M: Garden. When I can't go outside, I take virtual garden tours or read back issues of Gardens Illustrated.
Aside from the obvious toilet paper, hand sanitizer, and Clorox wipes, what has been your stress shopping item? 
A: Organic chicken.
M: Keeping the house stocked with healthy snacks for boredom eating.
Which website are you most often on during this time?  
A: BBC News.
M: Gardening sites. The National Garden Scheme has begun virtual tours to raise money, and, well, there are many inspirational gardens to visit.
What music are you most often listening to? 
A: A cross between Nina Simone and late 1970s punk rock.
M: While I am a kid of the '80s and love all '80s New Wave, I have recently been listening to ELO and KC and the Sunshine Band. So good.
Which podcasts? 
A: The Daily, On the Media, New Yorker Radio Hour, Friday Night Comedy (BBC Radio 4), Home Cooking, FT's Culture Call, BBC's The Forum.
What has been an upside to this crazy time for you?  
M: Seeing our gardening bloom daily. Considering new and exciting opportunities as a luxury retailer online and with stores. Reconnecting with friends and family in meaningful ways that I plan to develop. Remembering to be kind to one another, because we are in this together.
What beauty treatments should we give ourselves now that we've got all this extra time? 
A: Face masks!
M: I am a broken record: Less is still more. I can barely follow my own advice to wash and moisturize every day, twice a day.
When this is all over, what are the first three to five things you'll do or places you'll go? 
A: Restaurant, restaurant, restaurant.
M: Hug and kiss everyone I know; shop till I drop everywhere in NYC.