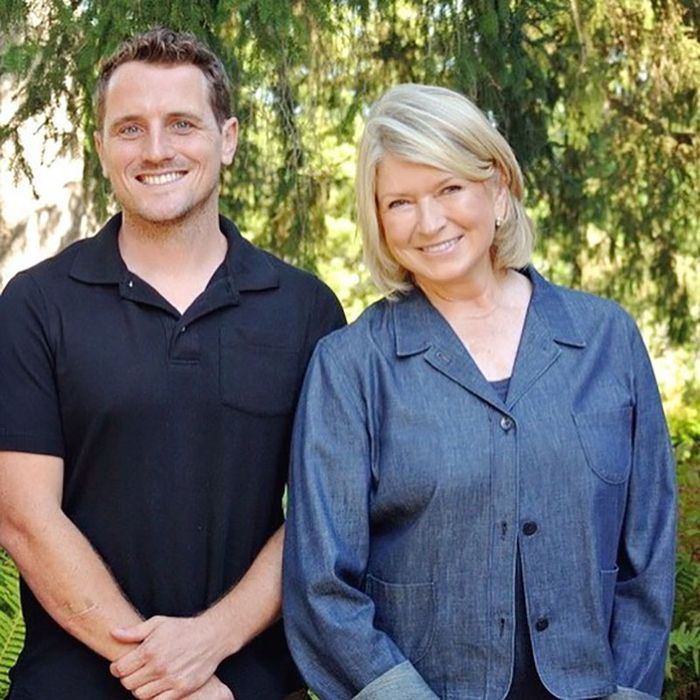 Ryan McCallister and Martha Stewart.
Photo: @ryanmccallister1/Instagram
Living in coronavirus lockdown is different for celebrities. If you're Jake Gyllenhaal, it involves making sourdough in an apartment that is NOT filled with pictures of your own face, despite hurtful rumors to the contrary. If you're Ben Affleck and Ana de Armas, it means clocking roughly 40,000 steps a day as you pose for paparazzi pics while kissing through your face masks. And if you're domestic mogul Martha Stewart, lockdown involves staying on your 150-acre Bedford, New York, estate with your driver, housekeeper, and gardener.
In an interview with Town & Country this week, gardener Ryan McCallister said that in March, he decided to leave his New York City apartment and stay in Stewart's guest house for a few days until the health crisis blew over. Now, more than 45 days later, he's still there.
Because spring is the busiest time for gardening, McCallister, who has worked for Stewart for nine years, says that this has all worked out "pretty well."
"Since we're at the house all the time we can work earlier and later and we get a lot more things done. And Martha doesn't just sit there and say, 'Do that!' She's out there doing everything with you." (Per T&C, McCallister "claims" that he and Stewart don't have a favorite plant, though "he does admit they both have an affinity for poppies and dahlias.")
#NoDaysOff, as they say in the fitness and, I guess (?), gardening communities.
In addition to preparing Stewart's vegetable garden and planting "hundreds of saplings," McCallister also says he has been brushing up on his video skills. "All the videos you've seen of her since March were done by me," he told T&C. "I hope I'm getting better at it."
When he's not gardening or producing content, McCallister says he and Stewart's driver and housekeeper eat their meals with Stewart and play cards with her.
Ah. A mogul quarantining on her estate with staff and still working long hours to make sure her garden is in tip-top shape. As far as I can tell, no screenplay based on this scenario has been optioned yet, so you still have time to write up what will surely be an awards contender in 2022.