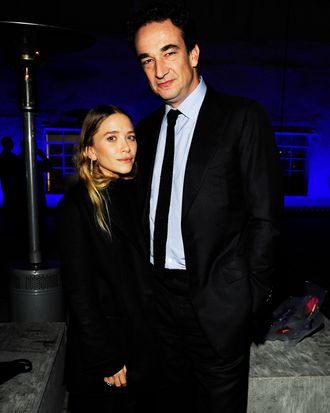 Mary-Kate Olsen and Olivier Sarkozy.
Photo: WireImage/Getty Images
After five years of marriage — ushered in with a wedding that featured bowls filled with cigarettes — and weeks of legal roadblocks, Mary-Kate Olsen has filed for divorce from her French husband. According to Page Six, New York's courts began accepting electronic filings on Monday, allowing Olsen to move forward with an increasingly acrimonious split.
Through no fault of her own, Olsen, 33, didn't pick the most opportune time to separate from Olivier Sarkozy, the 50-year-old French banker she started dating in 2012. In order to get a divorce, you must deliver a physical copy of divorce filings to a court. Per TMZ, Olsen signed a petition for divorce on April 17. However, amid the coronavirus pandemic, many states — including New York, where the couple lives — closed their courts and consequently stopped accepting nonemergency divorce filings. Olsen believed her case qualified as an emergency, and in mid-May, she filed an order to convince the courts to proceed with it. But a Manhattan judge ruled that her case did not qualify as an "essential matter," leaving Olsen to re-file on May 25.
According to documents obtained by Page Six earlier this month, Olsen claimed that Sarkozy terminated their lease without her knowledge and has been attempting to force her out of their New York City apartment. He reportedly gave her a deadline of May 18, which didn't grant Olsen enough time; she said Sarkozy's lawyers only informed her attorneys of the deadline a week beforehand. As a result, she pushed Sarkozy to extend the deadline until May 30, but she said was unresponsive. Hence, her emergency order, which stated that their relationship "has broken down irretrievably for a period of at least six months."
"It's gotten very ugly between them," a source told E!, characterizing the divorce as "heated." But thankfully, Olsen isn't without a place to stay amid a pandemic: Per the same source, Olsen has been living with her sister, Ashley, and some friends outside of the city.
What a mess, indeed! I hope that after all of this, Olsen celebrates with a bowl of cigarettes all to herself. Finalizing this divorce will certainly be worthy of a celebration.