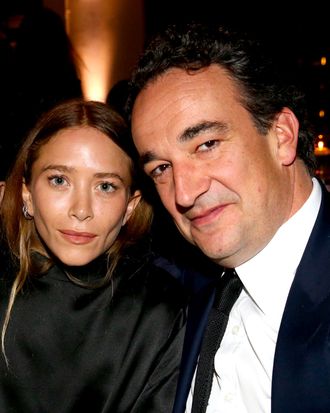 Mary-Kate Olsen and Olivier Sarkozy.
Photo: Johnny Nunez/WireImage
Mary-Kate Olsen's efforts to divorce her husband of nearly five years, French banker Olivier Sarkozy, appear to have hit a roadblock: On Thursday, Manhattan Supreme Court Justice Michael Katz denied Olsen's emergency request to expedite proceedings, filed Wednesday. New York courts spokesperson Lucian Chalfen told E! News that Olsen's "original filing was rejected by the New York County Clerk because they did not follow the essential matter procedure."
They refiled, Chalfen added, but Katz "just decided that it is not an essential matter so they can't file anything at this point."
The timing, of course, is far from ideal: Olsen, 33, and Sarkozy, 50, live in New York City, which remains under a stay-at-home order because of the coronavirus pandemic. Although Olsen reportedly signed a petition for divorce on April 17, she could not deliver a physical copy to the court per protocol, as they have been closed for all purposes except emergency filings. Olsen's filing from Wednesday reportedly argued that "this application is an emergency because my husband expects me to move out of our home on Monday, May 18, 2020 in the middle of New York City being on pause due to COVID-19." Apparently, the banker's lawyers only just informed her of this eviction deadline, and Sarkozy — who allegedly terminated the lease on their Gramercy apartment — has ignored her requests to push it back to May 30.
"I am petrified that my husband is trying to deprive me of the home we have lived in," her filing continued, according to Page Six, which obtained the documents. "If he is successful, I will not only lose my home but I risk losing my personal property as well." Olsen says that, because of the pandemic, she cannot "look for another apartment right now, let alone retrieve [her] separate property belongings." She said she is "gravely concerned" that her husband will "dissipate" or "dispose of" her possessions. According to the filing, "The relationship between [the two] has broken down irretrievably for a period of at least six months."
Another source told E! that things "gotten very ugly between" the couple, who married in 2015, surrounded by 50 cellphone-less guests and "bowls and bowls filled with cigarettes." The pair had been dating since 2012, but now, Olsen is "done with constant drama" that is their "heated divorce." She is currently staying with her twin sister, Ashley, and friends outside of New York City.