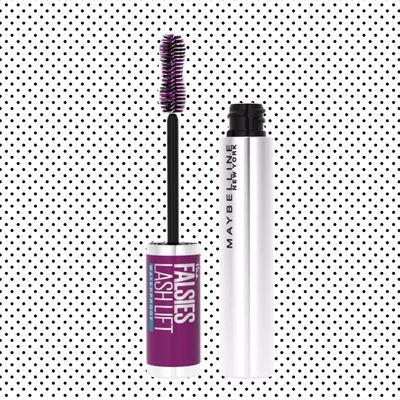 My lashes are like the nation's mood: droopy and sort of down. "Curling" mascaras never work on me, which is why I've always relied on eyelash curlers to make my lashes look more perky and my face look more awake. But Maybelline's Falsies Lift mascara is the exception. It makes my naturally straight lashes look jaunty, dark, and so long that they touch the top of my eyelid.
Falsies Lift was designed to give you the look of a lash lift, a process in which your eyelashes are actually permed around a rod, leaving them swoopy for five to six weeks. I had it done once and loved the look, which was more dramatic than anything I could have achieved with an eyelash curler, but the perming process itself brought me to tears. Those whose lashes are less stubborn than mine swear that Falsies Lift will make people wonder if you got a lash lift done during quarantine. Personally, I didn't notice anything that dramatic, but my lashes did seem perkier, like they were being gently propped up by the hand of a tiny invisible face elf.
Because the mascara has an hourglass-shaped wand, a lot of reviewers deem it a dupe to Too Faced's Better Than Sex Mascara. I think it's comparable and gives you a similar oomph, though Better Than Sex is more noticeable. Unlike Better Than Sex, though, this formula has some sort of fiber in it, which means it's less prone to smudging and smears.
With a few swipes (I do around ten) from root to tip, I can watch my lashes grow and become longer and thicker before my eyes, like they're on iPhone hyperlapse. And despite it being waterproof, it washes away easily with a a double cleanse.
If you buy something through our links, New York may earn an affiliate commission.