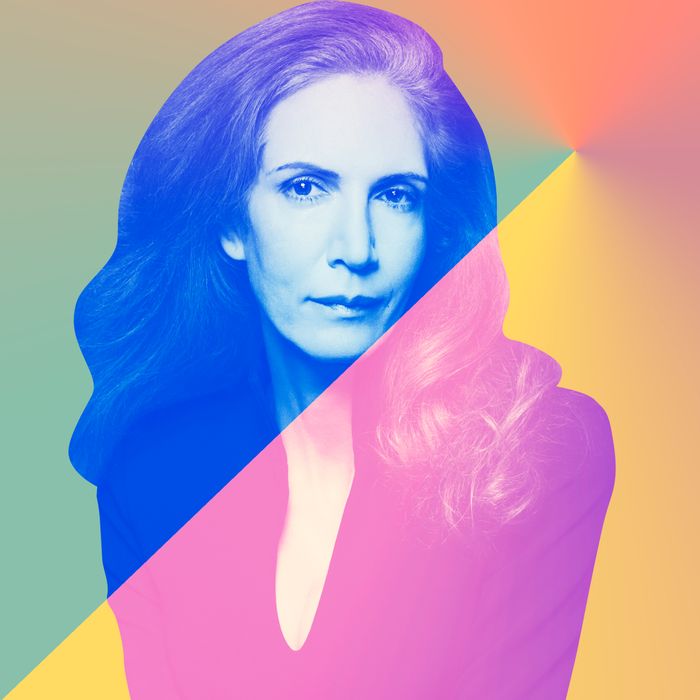 Photo: Francesco Carrozzini
Jami Morse Heidegger goes to great lengths to protect her skin.
"People always ask me what I do, so I tell them I wear a big hat, gloves and a scarf to cover my neck and chest. They say, 'Oh, I'd never do that,' but the one thing they'd be down for was trying the products I made for myself," laughs Morse Heidegger, formerly of Kiehl's Since 1851 and founder of Retrouve skin care. "My husband said, 'People seem to like your samples. Let's go into business,' and I said, 'Absolutely not.'"
To be fair, Morse Heidegger had been there and done that. Growing up third generation of Kiehl's, she and her husband Klaus Heidegger took over the family business in 1988. They transformed the medicinal-chic apothecary favorite into a behemoth.
I met her in the early '90s, and even back then some type of rich salve was always coating her face. She attributes this dedication to both product development and repentance for her sun-worshipping teenage years.
"At Kiehl's, I realized my skin needed to be my makeup," she says. "It's okay for skin to have a healthy sheen. The whole glow idea was a trend we started. The face doesn't have to be a matte canvas."
In 2000, the Heideggers sold Kiehl's to L'Oréal, but Morse Heidegger soon found herself whipping up salves to combat her own issues, like hormonal aging and dealing with the dry California desert climate.
"I'd up the vitamin A, C, and E levels, add panthenol and whatever new ingredients I'd wanted to try," she recalls. "It would have been very difficult back then to stabilize the formulations with such high amounts of these ingredients, but I went through them fast."
In 2015, when the Heideggers launched Retrouve, they kept the high levels but housed them in black glass containers with airless caps, manufactured under nitrogen, all of which stabilized the vitamins for longer with less oxidation. They also incorporated goji berries, guava, pomegranate, figs, and avocados, all harvested from the family's self-sustaining permaculture farm. A new face tonic comes out this Summer, and a hand cream and lip balm launch later this year.
"The lip balm is based on our Intensive Replenishing Facial Moisturizer, but we removed whatever we wouldn't want people to ingest," she explains. "Even some things that may be good for the skin you don't want to be swallowing. We look at lip products as food. Every brand should."
Morse Heidegger spoke with the Cut about dark bedrooms, her mean matzo brei, and how her hair inspired one of the most iconic products of all time.
What's your definition of beauty? Zoë Kravitz is one of the most gorgeous women I've ever seen and once offered the following insight: "Beauty is when you can appreciate yourself. When you love yourself, that's when you're most beautiful." To me, beauty starts from the inside, and self-care in all its forms is important and helpful on many different levels.
What do you think when you hear the term "clean beauty"? A good idea that needs a regulated definition and standard.
Where, if anywhere, in your beauty (or life) routine are you not quite that "clean," "green," or "sustainable"? At the moment, I cannot get enough Clorox everything!
Please fill in the blank as it pertains to your beauty or wellness routine: I think about ___ a lot: Trying to maintain a full-body, holistic approach.
What is the opposite of "beautiful"? Anything that is hateful, cruel, or racist.
What is your morning skin care routine? I apply Revitalizing Eye Concentrate Skin Hydrator first thing when I'm still in bed, then Chamomile Balancing Toner (in development), followed by a combination of Retrouvé moisturizers — either Revitalizing Eye Concentrate Skin Hydrator with Nutrient Face Serum, Dynamic Nourishing Face Cream, or Intensive Replenishing Facial Moisturizer — depending on how my skin feels. If I am going to be inside and don't care if I look "gucky." I apply a very generous amount; if I am going to be outside, I'll use less because I will wear sunscreen over it. Then lip balm, and I always drink a big glass of water while taking my vitamins and supplements, which include a host of offerings from Dr. Eva Cwynar's Abadi line such as N-Acetyl Cysteine, C Flav, Bone Nutrient Plus, and Methyl Folate.
What's the last beauty product you use every night? Retrouvé Revitalizing Eye Concentrate Skin Hydrator and Baume Ultime.
What, if anything, is usually on your lips? Lipsmart or Retrouvé's in-development lip conditioner.
Foundation of choice: Good skin care is my foundation!
Has your skin care routine revved up? I have actually had less time for skin care since sheltering with my three grown children than before, with work, housework, and being glued to the news reports.
Facial cleanser of choice: Retrouvé Luminous Cleansing Elixir.
Fragrance of choice: I switch between my longtime classic, Angel by Thierry Mugler, and my new favorite, Portrait of a Lady by Frederic Malle.
Bath or shower? Both, with my friend Kym Douglas's Glamorous Grapefruit Body Wash for TruSelf Organics, Malin+Goetz Rum Body Wash, and an avocado body wash we have in the pipeline that utilizes the avocados from our permaculture ranch.
Deodorant of choice: Native Charcoal Deodorant, which I discovered because they were sponsoring my daughter Nicoletta's podcast, Sluts & Scholars.
Hand wash of choice: Dr. Bronner's Pure Castile Soap.
Hand lotion that's getting you thru all these washings? Retrouvé's Dermal Defense Hand Cream and Baume Ultime.
Most relied on hair product or tool? Each morning, I spritz into my scalp the J.F. Lazartigue Stymulactine 21 Serum, and Moroccanoil Treatment is a daily go-to.
What was your first beauty product obsession? I was at Beverly Hills High School when I discovered Vidal Sassoon hair treatment packs. I had thick, frizzy hair, but my goal was to have the sleek, turned-under, swingy Vidal Sassoon bob that was all the rage at the time. In my quest for what I saw as hair perfection, I began a lifelong obsession with hair treatments. It was this unfulfilled teenage quest for smooth hair that led to the creation of Kiehl's hair treatment line.
Daily carry-all: Stella McCartney Falabella Tote.
Who makes your eyeglass frames? Thierry Lasry.
What's your bed/bedroom like? As dark as possible — both for optimal sleep and because I avoid the sun! Sheets I am indifferent to as long as they are soft. I am very particular about trying only to use silk and satin pillowcases and favor Slip for their preventive maintenance benefits for the skin.
What's your living room like? Airy and bright, so I never go in there!
What is your current 'sheltering' daily uniform? Lululemon or Alo Leggings and a Majestic Paris turtleneck.
What do you own too many of? Stuart Weitzman boots.
If you were a makeup shade, what shade would that be? NARS Night Breed.
What beauty-related reality show, if not invented yet, would YOU love to watch? I really enjoy the Vogue and Harper's Bazaar videos of aspirational figures showing their skin-care or makeup routines, and I would gladly watch a whole show based on this premise. I especially like watching those who keep it real in their videos, like Demi Moore, Tracee Ellis Ross, or Ashley Graham.
What skill are you a consummate failure at? Art. I got a D in Art in second grade — is that possible?!? Being in a family of artists makes this lifelong dearth of skill especially mortifying!
What was the most recent interesting conversation you had? Speaking with Dr. Cornelia Weyand, Director of the Center for Translational Medicine at Stanford University School of Medicine, about her insights on COVID-19 and her fascinating research toward developing a vaccine.
What song is usually in your head? David Bowie's "Heroes," because of our heroic frontline responders.
Favorite smell? The forest after the rain.
What do you think Pantone's color of 2020 should have been? I think their choice was spot on. I can't imagine a better color than calm, confident classic blue — it is dependable and stable. We need these qualities right now.
What do you most often disagree with others about? For my work, I do a lot of reading and researching, so often I will disagree with my family on health matters and treatments, where I am generally ahead of the curve.
What can't you leave alone? Micromanaging my kids' health and Clorox wiping every door, refrigerator, handle, and light switch.
What calms you down? Exercise, reading, and some of the classic shows on MeTV.
Comfort food: Frozen yogurt, and a good bowl of cereal.
Vice snack: Carbs — crackers, pretzels, popcorn, pasta, bread.
Most impressive dish you make: Matzo Brei.
What food would you never eat? Raw meat.
What do you foresee as the top beauty trends for the second half of 2020? The second half of 2020 will bring more response to new social distancing norms, with people continuing to enhance their self-care treatments at home. Even when we are allowed to go back out in public, I believe that people will incorporate more at-home treatments than ever before, either performing the treatments themselves or by hiring a professional service to make house calls.
What product in your brand's product domain is misunderstood and should be a best seller? Our Skin Brilliance Priming Pads. They're imbued with a scientifically balanced solution that features a potent level of fruit-derived acids to hasten the exfoliation of dead skin tissue as panthenol provides a soothing effect. A few customers have mentioned that their skin feels a bit "sticky" while the solution is being absorbed. What people don't realize is that the perceived "stickiness" is actually the panthenol doing its job as a humectant to draw moisture to the skin!
What product in your brand's product domain is currently your favorite (understanding that this could change all the time). My Revitalizing Eye Concentrate Skin Hydrator and Intensive Replenishing Facial Moisturizer — a dynamic duo for the ultimate in skin hydration!
What activity do you do when this new stress becomes too much? I turn off the news channels and go for a walk with some of my favorite soothing music playing in my headphones. I try to be in or around nature as much as possible.
Aside from the obvious toilet paper, hand sanitizer and Clorox wipes, what has been your stress shopping item? Trying to procure Lysol multipurpose pump-spray cleanser!
Favorite hand sanitizer? My favorite is whatever is the most effective one is, and I am particularly enthused about the special new moisturizing hand sanitizer that I have been using that our long-time chemist is currently testing to patent. In the meantime, I've had several people recommend Berkshire Mountain Distillers' hand sanitizer to me.
Which website are you most often on during this time? The SmartNews app is always open on my phone.
What has been an upside to this crazy time for you? Being able to spend time with my children. It's been about ten years since all three of my kids have been here at the same time. Being together as a family has been really wonderful, and I have treasured every minute of cooking, talking, and just being together.
What beauty treatments should we give ourselves now that we've got all this extra time? It's a really good time for deep moisturization from head to toe. Take the time to treat hair with a conditioning masque. (I like Moroccanoil's Intense Hydrating Mask.) Since we're inside all day anyway, allow hair to air-dry naturally. Slather hands and feet with a heavy-duty body cream or oil, cover with cotton gloves and socks, and allow it to remain on overnight. Take the time to give yourself a pampering facial. We have an excellent at-home protocol for a Retrouvé DIY Hydrating Facial on our website blog that I like to do myself.
Conversely, now that we're in this isolated state, what in your own grooming routine are you less … on top of? I am definitely less on top of waxing and hair grooming! I just ordered a Custom Haircolor Touch Up Kit from Michael Angelo at Wonderland Beauty Parlor — he sends enough color to do the roots and walks his clients through the process via FaceTime. I've never done anything like this, but there's a first time for everything!
When this is all over, what are the first three to five things you'll do or places you'll go? First and foremost, I will visit my mom, who has been unwell. And I am eagerly awaiting the days until it will feel safe again to go back out to attend religious services, wander leisurely around a grocery store, have a facial at Cristiana Skin Care or a treatment at SkinStyle Beverly Hills. And go to the gym!