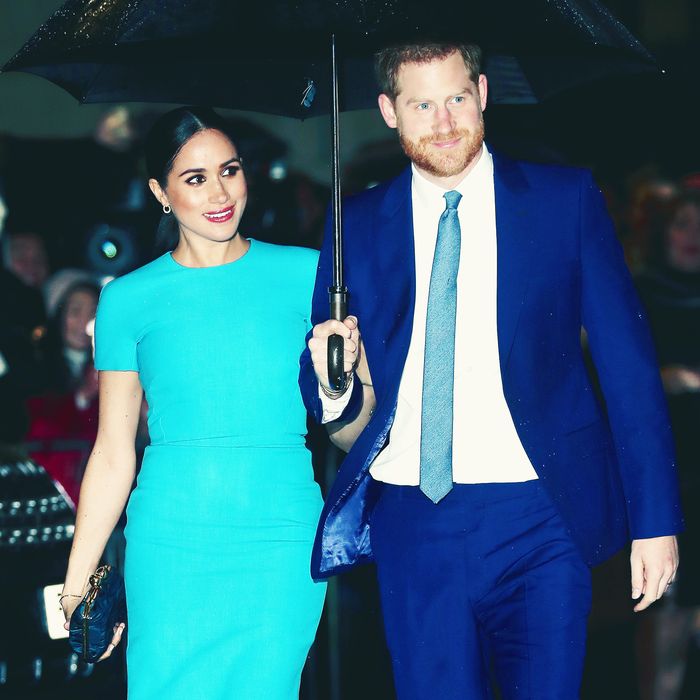 The Sussexes.
Photo: Chris Jackson/Getty Images
Former royals Prince Harry and Meghan Markle have been subjected to egregious invasions of their privacy in their new Hollywood Hills home, according to a new report from the Daily Beast, including drones flying as low as 20 feet in the air over their yard while they play with their infant son, Archie. This month alone, the couple have reported five drone-related incidents to the L.A.P.D.'s nonemergency line.
"They see these drones coming in at them, and they guess that they are being operated by photographers, but they can't just assume that," a source close to the couple told the Daily Beast.
Meghan and Harry — just Harry, now — moved to Los Angeles sometime back in March, after a brief stay on Canada's Vancouver Island. Since then, the couple have been staying temporarily in a home owned by their friend, filmmaker Tyler Perry, and spending their time crashing Zoom calls and delivering meals to residents with critical illnesses around the city with the Project Angel Food charity.
The pair were on one such food delivery run last month when, according to the source, paparazzi spotted them and started tailing them, driving dangerously and erratically through L.A. streets to snap pictures of the couple, cutting across multiple lanes of traffic, and nearly causing an accident. "It was incredibly dangerous, shocking, and scary," the source said.
The couple has yet to hire a private security team, but the source insists that rumors Prince Charles would foot the bill for their security are untrue, and that Harry and Meghan will be paying for it themselves.
"It's like people forget they are real people," the source added. "But this is a real family. They are not asking for any special treatment; they are just asking for the safety and security we all expect in our own homes to be respected."