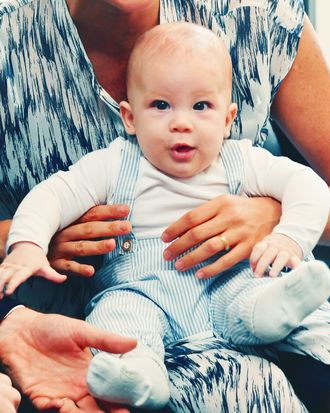 Photo: Pool/Samir Hussein/WireImage
Today, baby Archie Harrison Mountbatten-Windsor, the first and only son of Meghan Markle and Prince Harry, turns 1 year old. To celebrate, the couple released a video of him reading (sort of) with Meghan:
The video shows a rambunctious Archie, who, in typical 1-year-old fashion, quickly loses interest in the book Meghan is reading to him, and repeatedly attempts to close it. At one point, he grabs another nearby book and throws it on the floor, giggling. Meghan proceeds gracefully, and somehow gets through the entire book in spite of her squirming child, whom she calls Arch. The parents cheer, and Archie giggles again, apparently delighted by the whole thing.
The video was posted by Save the Children UK, an organization that is currently focused on the coronavirus-relief efforts in the U.K., and is meant to help raise funds for vulnerable families. It's not Meghan and Harry's first foray into coronavirus-related charity: Last month, they donated over $112,000 to another organization, Feeding Britain, and hand-delivered meals to at-risk people in Los Angeles.
This video is the first time we're seeing Archie since his time in Canada, around New Year's, when the Sussexes released a photo of him looking like a cute little chicken nugget in a pom-pom hat and baby UGGs:
And judging by the video, he's grown a ton since then. What's more, in spite of his year — which involved being born, a tour of South Africa, a great escape to Canada, and then to L.A. — he's a totally normal, boisterous child who doesn't have much interest in sitting still.