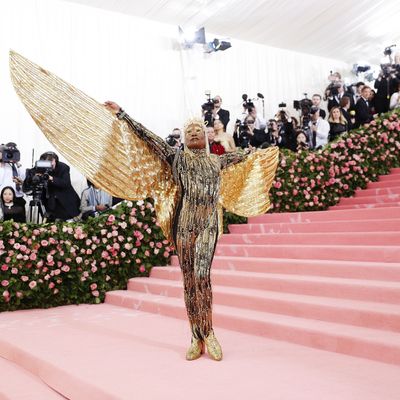 Photo: JUSTIN LANE/EPA-EFE/Shutterstock
On Tuesday, the Metropolitan Museum of Art announced that the 2020 Met Gala has been officially canceled. All tours, talks, concerts, and events are also canceled through the calendar year, though the museum currently plans to reopen for visitors in August, adhering to social-distancing guidelines.
Initially, the gala, which was supposed to take place on May 4, was postponed "indefinitely." (Anna Wintour's favorite word.) In its place, a virtual "High Fashion Twitter Met Gala" was organized by a handful of non-industry enthusiasts earlier this month. But like everyone else in fashion right now, the museum decided to rethink its plans.
The gala's corresponding exhibit, "About Time: Fashion and Duration" is still scheduled to open on October 29, 2020. The show was pegged to the museum's 150th anniversary this year, which is one reason why it doesn't make sense to postpone to 2021. Next year's Met Gala will be a fresh start.
It's ironic (and tragic) that a Met Gala with the theme of time itself was never able to see the light of day. But also kind of perfect. Onward!