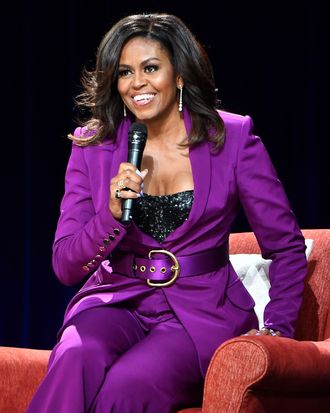 Photo: Paras Griffin/Getty Images
If you weren't able to land tickets to Michelle Obama's blockbuster book tour, Netflix just gave us the next best thing. Becoming, the documentary, came out today, May 6. It follows the former First Lady on the international tour she took following the release of her best-selling memoir in 2018.
Like the book, Becoming the film isn't just a reflection of Obama's eight years in the White House. Rather, it's a deeply personal examination of her life before her husband became president. In fact, it covers the years before she even had a husband, describing her childhood, time in college, and her early relationship with Barack, whom she met in her 20s when he became her mentee at their law firm.
The documentary was co-produced by Higher Ground Productions, which was founded by Michelle and Barack Obama after he left office. As such, the camera's access to Obama's private life is unprecedented. She's always been candid as a public figure, but Becoming is an even more intimate look at her personal life: She speaks frankly about her marriage to Barack, how she sacrificed her ambition in lieu of his, their visits to a marriage counselor after having children, and more. She addresses motherhood, too, describing how she didn't feel prepared to have children, let alone raise them in the White House.
Much of the film is compiled from interviews she gave onstage during the tour, where she discussed the pressures of being the first black First Lady, and how she coped with the media denigrating her on the campaign trail and throughout her husband's tenure. "It changes the shape of a person's soul," she says, reflecting on the racist stereotypes and personal attacks she faced while campaigning. In one interview with Oprah, she reveals how she cried for hours on the ceremonial final flight out of Washington; "[it was] the release of trying to do everything perfectly," she explains.
Becoming isn't revelatory in any profound ways, especially if you've already read the memoir. That said, the film is well made and moving; ultimately, it's an intimate look at a political and public figure whose poise, intelligence, and humanity hasn't wavered since we met her. She's also just a delight to watch, with good taste in music and clothes, and perfect comedic timing. And Becoming, like Michelle Obama, will leave you with a sense of hope and optimism; watching it will give you a few hours of sublime escape.