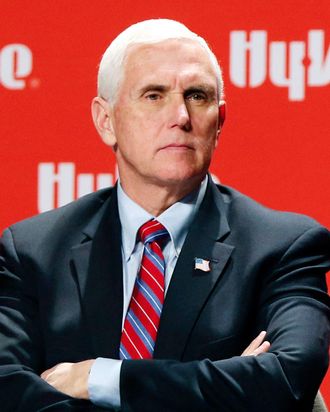 Mike Pence
Photo: Charlie Neibergall/AP/Shutterstock
Vice-President Mike Pence, the head of the White House Coronavirus Task Force, has once again proved himself unwilling to follow basic CDC guidelines regarding the spread of the disease.
In the most recent instance of this, last week, food-industry executives at a roundtable discussion in Des Moines, Iowa, were asked to remove the masks they were wearing before Pence took the stage, according to a report by the Intercept. After they complied, Pence emerged, also sans mask. This unmasking request would have seemed bizarre at any point during the current health crisis, but it was particularly risky on Friday, given that just hours earlier, Pence's spokesperson, Katie Miller, had tested positive for the virus. (A spokesperson for Pence says the vice-president has repeatedly tested negative for COVID-19.)
Currently, CDC guidelines recommend that people "wear cloth face coverings in public settings where other social distancing measures are difficult to maintain" in order to slow the spread of the novel coronavirus, and to prevent those who may unknowingly have the virus from transmitting it to others. Over the past couple of weeks, however, Pence has displayed an aversion to masks, repeatedly insisting on keeping the bottom half of his face fully exposed to the world — even in a hospital setting.
At the end of April, Pence did not wear a mask during a visit to Minnesota's Mayo Clinic, openly flouting not only the CDC's recommendations but also the hospital's strict rule that "all patients and visitors [must] wear a face covering or mask to help slow the spread of COVID-19." Later, the vice-president explained his choice to remain uncovered to the press, saying that a mask was not necessary for someone like him, who is tested regularly for the coronavirus. As for his motivation in going fully barefaced, he claimed he wanted to be able to look the health-care personnel he met "in the eye and say thank you." (Masks are meant to cover one's nose and mouth, not the eyes.)
As Robert Mackey at the Intercept noted in his report, the coronavirus test kit currently being used in the White House has been found to produce false negatives 15 percent of the time. That means that if someone like, say, the vice-president, tested negative for COVID-19, there is still a 15 percent chance he could in fact have it, and if he were to then go somewhere like, say, a hospital, or a roundtable event without a mask on, he would risk transmitting the disease to the people around him, and furthering the spread of the virus.
Wow, that would be bad. I wonder what Mother will have to say about this.