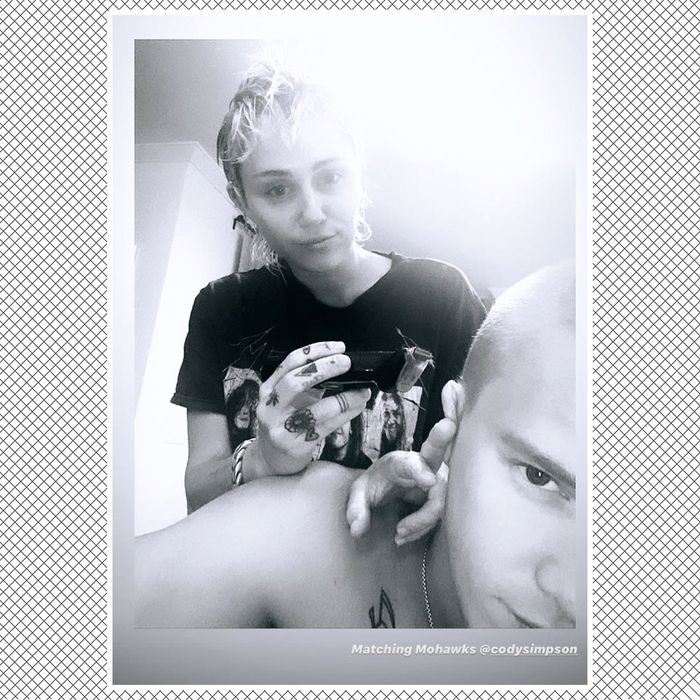 This many??
Photo: @mileycyrus/Instagram
Miley Cyrus has changed up her hairscape — yes, again. That mullet-pixie cut her mom gave her last week, with the help of celebrity hairstylist Sally Hershberger no less, appears to have held the pop star's interest for only so long. (Approximately eight days, if we are counting.) Now, she has a Mohawk. It appears Cyrus shaved both her head and boyfriend Cody Simpson's head to match, a symbol of their young love. And perhaps also, their enduring indoor boredom.
According to Nylon, Cyrus debuted the Mohawks in her Instagram stories on Tuesday, sharing a photo of her holding a pair of clippers to the side of Simpson's shorn head. Her hair had also been buzzed on the sides, leaving a tousled stripe down the center.
As mentioned, the makeover comes about a week after her last, which itself came not so many weeks after a quarcut some likened to Joe Exotic's signature mullet, which Hershberger may have helped her tame in the interim. Of course, Cyrus can do whatever she sees fit with her head. There are, after all, only so many activities available in home confinement — although celebs certainly seem to have more options than us normals — and then, the long stretch of suffocating same-ness makes change feel extra exciting these days. That probably explains why so many people have given themselves frisky dye jobs and the bangs they've always wondered about over the past two months.
Still, with regards to Cyrus, it's a lot of makeovers in a short period of time — a dizzying carousel of new spring looks. Is it too many makeovers? Only Miley can answer this question for herself. I, meanwhile, am excited to see what kind of look the artist cooks up when she runs out of her preferred medium: hair.