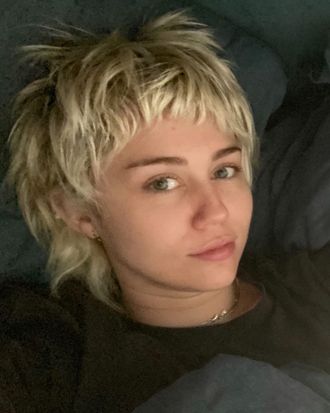 Miley Cyrus and her new hair design.
Photo: @sallyhershberger/Instagram
Many people, celebs and normals alike, have been playing around with new hairstyles while isolating at home. Elle Fanning, Jennifer Love Hewitt, Lottie Moss, Sarah Michelle Gellar, and probably also many faces you know from Instagram, have died their hair pink. Armie Hammer gave himself a troubling Mohawk-handlebar-combo, and all around us, shaved heads abound! But while so many others take this time as an opportunity to experiment without anyone ever having to see the results, Miley Cyrus appears to have been distilling her hairstyle down to its purest form.
On Tuesday, celebrity hairdresser Sally Hershberger posted a photo of Miley to Instagram. Hershberger has been offering virtual haircuts (she recently told the Cut she helped Miley fix a previous home haircut SNAFU), and her caption suggests that she walked Miley's mom, Tish, through the crafting of this 'do.
Miley's hair often tracks with trends: Earlier this year, she debuted a hairscape that readily scanned as a shag, a very specific flavor of shag often seen in the Bushwick neighborhood of Brooklyn. Around the time Tiger King laid siege to Netflix, she tested a quarcut that garnered some comparisons to Joe Exotic's signature look. And now, thanks to mom Tish's intervention, it has completed its metamorphosis.
The business in the front appears to love partying just as much as the back section does, but make no mistake: This haircut is a mullet, and it is very evocative. This mullet is screaming over thumping techno music that it lives in Stockholm but spends summers in Berlin. This mullet has crushed a cigarette on the doorway of my apartment building on its way to the metal bar down the street. This mullet somehow also carries a whiff of vintage Jane Fonda, its slightly rounded top and short bangs nodding to her infamous 1970 mugshot. Or maybe that's actually a whisper of Gossip Girl's Jenny Humphrey, telegraphing her rebellious preferences via a pointy peroxide shagbob. This mullet contains multitudes. When you look at it, what do you see? I promise, there are no wrong answers here.