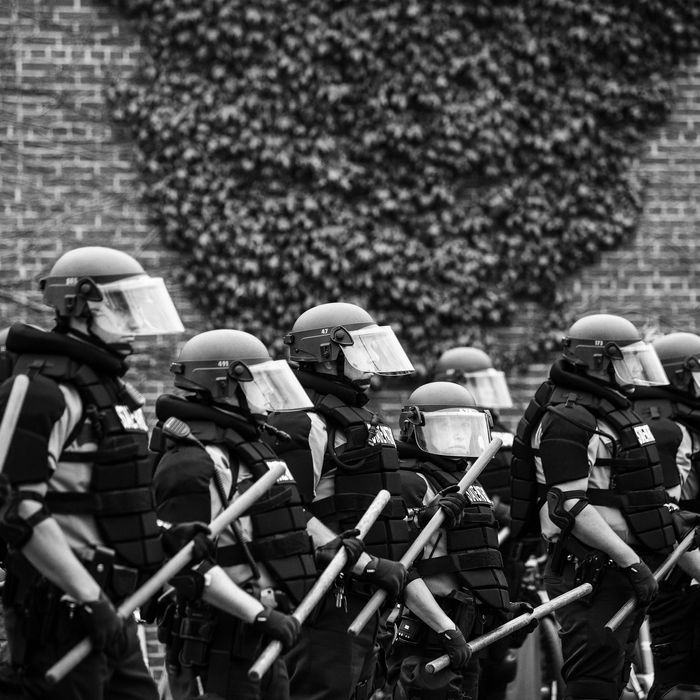 Photo: Kerem Yucel/AFP via Getty Images
For a lot of people, it has never felt more dangerous to come together in America. Amid the coronavirus pandemic, which has claimed 100,000 lives in four months, we have remained distant from one another, waving to our loved ones through windows, maintaining at least six feet of distance on eerily empty streets. But on Tuesday, protesters in Minnesota turned lonely suffering into collective fury, their faces covered in masks but their bodies jostling up against each other in the streets. Outraged by the death of George Floyd at the hands of Minneapolis police — and the death of Breonna Taylor, shot to death by plainclothes officers in her own home, and of Ahmaud Arbery, gunned down by two white men while jogging, and the thousands of others senselessly killed in similar circumstances — they faced down a militarized police force and demanded justice. They held each other up, tended to wounds from rubber bullets, poured milk in each other's tear-gassed eyes, and lifted each other onto buildings and barricades, wearing masks for protection against the virus, but also to shield themselves from police surveillance.
Last night at around 11 p.m. felt like a world-historical inflection point inside of a world-historical inflection point. Protestors chanting Floyd's name occupied and set alight the Minneapolis PD's 3rd Precinct building, where the officers responsible for Floyd's death were employed. Police had abandoned the station; once it burned, the jubilant protestors set off fireworks.
The pandemic has exposed so many of America's deep veins of inequality down to their very core. There can be no doubt now that there are those who can afford to stay safe inside and those who can't: People who are overwhelmingly poor and nonwhite and who are dying. It is a sheer incongruity of experience mirrored in another disease, another terrifying virus disproportionately inflicting harm on the same communities, that of racist police brutality. For the overwhelmingly young crowd in Minneapolis, there's a sense that the stakes have never been higher, that the only thing left to do is to fight for their lives, together. Nothing else is working. "I had to choose which virus poses the biggest threat to my family, friends, and me," says Sućdi, a student who has been out every day and night, carrying signs and wearing her mask. "And that's the police."
Essence, 20, student
I woke up at 5:30 a.m., watched the video, and couldn't go back to sleep. I'm black — that could've been anyone. My friends hit me up, and we went to the 3rd Precinct in Minneapolis. I didn't care about the coronavirus, honestly. The shutdown has people pent up and aggravated, but most of all they're tired of the same situations and outcomes. The racism in Minnesota, being tired of it, is bigger than being sick. Why does it matter if you can die at the hand of the police anyways? It's almost like picking the lesser of evils.
Sućdi, 24, student
I haven't slept for more than three hours in two days. My friend got hit with a rubber bullet in the head. She's at the hospital right now. What you're seeing in Minneapolis is black people fed up. This has been building. I'm terrified of the coronavirus. I'm diabetic, and my mom is very worried. But I tell her there's no choice. I went out because I do not want my future children to experience that rush of fear and panic when being pulled over by a traffic cop. I had to choose which virus poses the biggest threat to my family, friends, and me. And that's the police.
Keenan, 20, barista
I went by myself to the precinct but ended up with brothers and sisters I've known for a while. I ended up carrying a woman two blocks to her car because she got hit in the leg with a rubber bullet. The police deliberately sprayed all of our food and supplies with tear gas. But the fear and anger surrounding how George was treated outweighs the fear and anger around COVID-19. The stakes have never been higher. I tell my family that I got some battle wounds, but I am alive. They will heal, but George's life won't, so I plan to protest every day until Derek Chauvin and the other three officers are charged with his murder.
Fatah, 29, designer and artist
I live in Minnesota, but I'm a refugee from Liberia. Black people need to be united. We are desperate for change, not just here in Minnesota but globally. I am afraid of coronavirus; my mother is a nurse. On the first day, everyone had on a mask, although we weren't staying six feet away. The police are a bigger threat! There is an abuse of power, there is a feeling that they are above the law. We are here to show that regardless of what is happening to our health we refuse to run. We refuse to live in fear.
Allison, 23, massage therapist
I know people who wish they could be protesting but can't because of their physical safety. For me, COVID is something that only plagues the current generation — but systematic racism and police brutality plague the people; it is a problem that affects future generations. This social problem outweighs any physical-health issue. I wanna believe I am standing for those who were killed, I'm standing for those who live in fear now and those who have lived through the injustices, and I am standing and fighting for the future. It was hard to be afraid when everyone was so diligent to keep it peaceful. People were trying to take care of each other. But we all should be a little afraid. Change is scary.