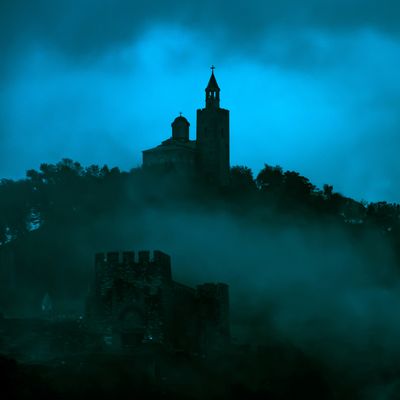 Photo: Olga Galkin/Getty Images/500px
Picture this: You are a young touring musician whose love of playing the panpipes has brought you and your colleagues to a haunted German castle for a night. It's spooky, but you fully expect to decamp in the morning and continue your travels through the concert halls of East Germany. Then a mysterious illness prompts the shuttering of borders and issuance of stay-at-home mandates, and your plans dissipate overnight. Now, like those Swedish peasants in The Seventh Seal, you are holed up in palatial isolation as a plague roams the countryside. Weeks pass, then months. Now the entirety of your days are spent playing the panpipes for a phantom audience. You only packed, like, one outfit that screams Accidental Guest of 600-Year-Old Moated Royal Estate. Wolves prowl about the castle grounds. Hopefully they find the panpipes soothing.
It sounds like a bad blurb for a debut short-story collection in the style of Angela Carter, but this is real. The BBC reported on Friday that a Bolivian orchestra group has been stranded for 73 days at the Rheinsberg Palace in Germany, which once housed royals and aristocracy and is located about an hour and a half outside Berlin. The musicians, some of whom are as young as 17, arrived in Germany on March 10 just as the country was beginning to implement bans on social gatherings in response to the coronavirus pandemic. Their concert tour collapsed as dates were canceled, and though the group tried to return home, they were unable to, due to border closures (Bolivia closed its border and paused all international flights about a week into the group's trip).
Due to social-distancing restrictions, the performers have not been able to leave the palace grounds and surrounding woodland area, inhabited by 23 packs of wolves. So they ended up at the palace for reasons not adequately explained (one of the travelers, Carlos, remarks that their "bus broke down on the motorway" at some point, but the timing isn't clear). According to the report, the sounds of panpipes, snare drums, and flutes now fill the palace halls.
Waking nightmare or alternative artist's residency? Some musicians find that passing the empty days on a beautiful estate isn't so bad. A 25-year-old musician named Miguel told the BBC, "There are worse places to be trapped. When I wake up, I watch the sun rise over the forest and the lake. Back home, I only hear the sound of traffic." Others are not so at ease. Tracy Prado told the BBC "it was devastating" to miss her daughter's birthday because she was unable to return home. Carlos said that the group feels "abandoned" by the Bolivian embassy that has left them trapped in a freaky German palace — probably with the ghost of King Frederick the Great, who stayed at Rheinsberg for a time. One musician remarked, "We all joke that Frederick's ghost is following us and trying to trip us up."
Hahaha, okay, but in all seriousness, do they even have Wi-Fi at this palace?