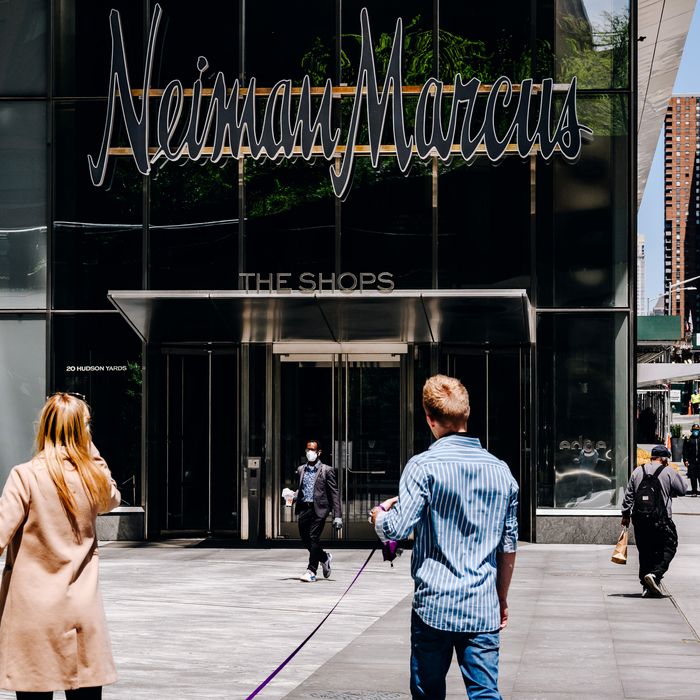 Photo: Bloomberg via Getty Images
On Thursday morning, it was announced that Neiman Marcus Group filed for bankruptcy protection, making it the first major department-store group to do so during the coronavirus pandemic. Earlier this week, J.Crew Group became the first major fashion retailer to file for bankruptcy protection on Monday. J.C. Penney is rumored to be next, and not likely the last.
At the end of March, Neiman Marcus was forced to shut down all 43 of its physical locations, as well as its two Bergdorf Goodman stores and Last Call outlets. Online sales alone weren't enough to save the 112-year-old Dallas-born chain from bailing itself out — last month, sales of clothing and accessories fell by more than half across the retail industry, making an already-tenuous situation at Neiman Marcus even worse. The company was billions of dollars in debt well before the pandemic, and struggling to keep up with changing consumer behaviors, as so many department stores are.
"Prior to COVID-19, Neiman Marcus Group was making solid progress on our journey to long-term profitable and sustainable growth," chief executive Geoffroy van Raemdonck said in a public statement. "However, like most businesses today, we are facing unprecedented disruption caused by the COVID-19 pandemic, which has placed inexorable pressure on our business."
As for its future, Neiman Marcus told press that it hopes to avoid liquidation sales or mass closures, and shed its bankruptcy-protection status by fall. It's been reported that a company sale could be on the horizon.