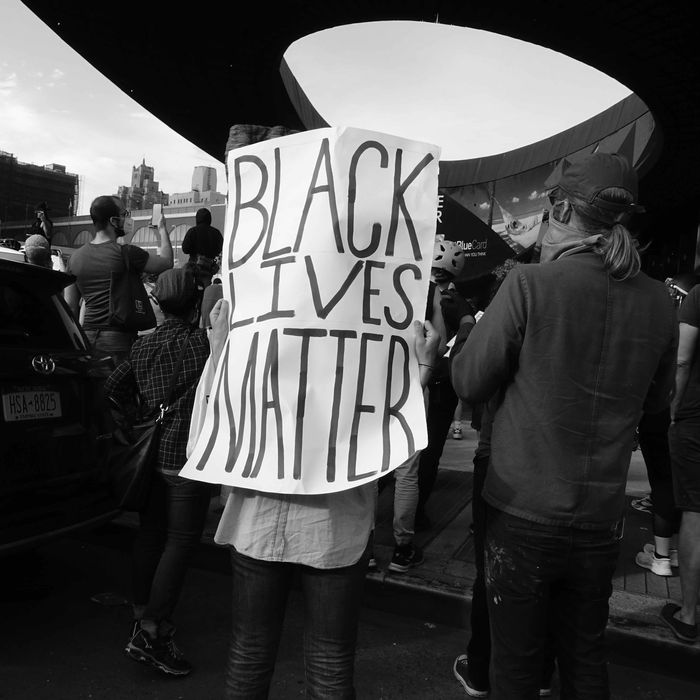 On Friday night, a city that has been constricted by social distancing and stay-at-home orders for months finally burst open in anger. Roughly 3,000 people convened at the Barclays Center in downtown Brooklyn to protest George Floyd's death at the hands of Minneapolis police. They chanted "Hands up, don't shoot," while black protesters yelled "stop killing us!" at the hundreds of cops who lined the arena and cars honked loudly in support.
A few hours later the gathering turned violent. Protesters threw water bottles and debris at officers who beat them with batons, used pepper spray, and arrested more than 50 people. One video shows a woman being flung to the ground by an officer and hitting her head. Officers piled handcuffed protesters on an MTA bus, but the driver refused to stay behind the wheel and walked off.
But to many protesters, the pandemic seemed less dangerous than police, who held down Floyd until he became unconscious, shot Ahmaud Arbery while he was out on a run, or who opened gunfire on Breonna Taylor after bursting into her apartment.
The rage over systematic racism that has claimed countless black lives culminated in protesters setting an NYPD van on fire near Fort Greene Park. Below are images from the fury-filled streets.