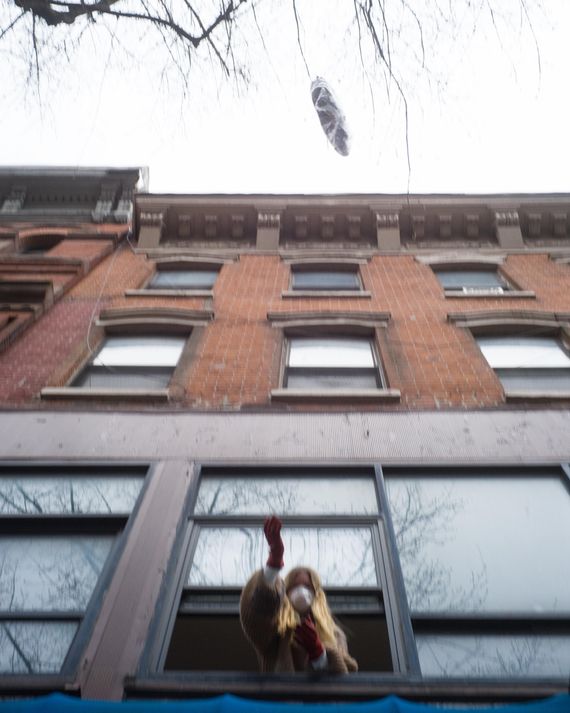 puzzle pass kerri
Photo: Cheryl Dunn
New York City–based photographer and documentary filmmaker Cheryl Dunn has been capturing life in the boroughs for just over 30 years. While she has experience shooting editorial, fashion, and advertising, her passion is for documenting street life. "It's a window into humanity and humor, our pathos," she says. "I get a kick out of observing it and I love doing it."
She describes the practice as something you can't buy your way into being good at. In a world where so much can be achieved through privilege, street photography is one place where you have to put in the work to see success. "You can't will your way into doing it well," she says. "You have to put in the time, put your eyes on the street, you know? And then, still, chance plays a role, but you have to put in the time."
Since the city's stay-at-home order began in March, Dunn has been spending her days biking and walking the streets to capture the typically bustling, chaotic city at its quietest. "It's cool in a different way," she says. "New York is always cool. Well, I guess cool isn't really the word. It has this essence to it that's always intriguing, that's poetic and amazing." The character of New York is one that has been depicted in movies, books, and television from time immemorial. It's a city where people don't hold back, a city where the sense of community is strongest in its most unconventional ways. "It's like when a cab driver yells fuck you! one minute, and then next, he's like, Hey, can I help you?," she explains. "As you see, in times like this and 9/11, people band together and help each other. That doesn't mean they're not going to be pissed off the next minute, but that's what is amazing about this town, and is very specific to New York. We don't bullshit."
In this series, Everybody Street Covid-19, Dunn captures what's left of that ethos. Documenting not only the signs of life, like the graffiti on trucks and walls,  but also how everyone is adapting, attempting to turn catastrophe into opportunity — like the man playing tennis in a truck depot or the woman having a graduation ceremony in a Chinatown park. She showcases resilience.
"There's this sarcastic kind of nature that is intrinsic to New Yorkers because, you know, it's a tough town," she says. "If you don't have a sense of humor, if you take yourself so seriously, you're going to crack in half. You have to have this flexibility on how to roll with the punches and those are the people who survive. Those are the people that thrive."
As for what may come out of this uncertain and unprecedented time, Dunn knows one thing: she's excited to see what comes out of this surge of creativity. "Artists apply for residencies so they can get away from this shit and go to a quiet place to think and create," she says. "All of New York City is an artist residency right now. Every city is." Artist movements are often born from disaster and difficult moments in history and she believes this pandemic will do the same. "Just think of New York in the 1970s. The art, music. Punk rock and hip-hop, they both came out of New York when the city was in very difficult financial strain," she says. "[Disasters and hard times are] when art, profound art movements, happened that changed the course of the world."
Scroll below to see the photographs Dunn captured of New York's newly quiet streets, and a few from outside the city.