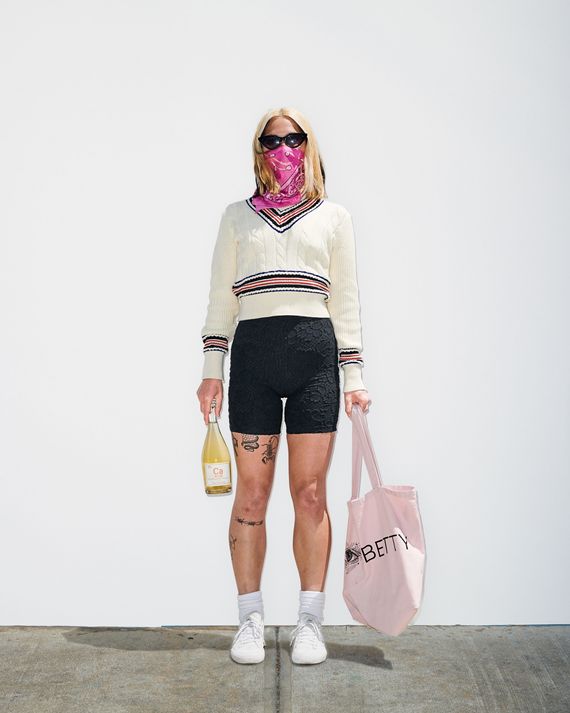 Raven Heinz-Garcia.
Photo: Kyle Dorosz
Every Wednesday from 11 a.m. to 4 p.m., patrons wait outside the Brooklyn restaurant for takeaway rotisserie chicken, pét-nat, and braised butter beans.
Raven Heinz-Garcia (pictured above), social-media strategist, lives in Bed-Stuy.
Is this your first time picking up here?
No, I come every Wednesday to grab chicken. When you're a regular, the employees address you by name. It makes you feel really special hearing someone say, "Raven, your rotisserie chicken is ready," which says a lot about how little human interaction we're having right now.
Do you live alone?
I have two roommates, Brian and Izzie. They're my good friends. And they're a couple. We're all making a science-fair volcano together.
Have you gone on any of the dating apps?
Yeah, I logged on. Half the guys are like, "Hey, done any good puzzles lately?" Then the other half are like, "Hey, you ready to break quarantine? I have a car." Actually, those types of messages should probably be flagged by the algorithm.
Where else do you food shop?
My friends are getting all these specialized deliveries: loaves from bread guys, nut butter from nut-butter guys. I got a mushroom-growing kit from some mushroom farmers. And we all pick up bottles of White Negronis from the Fly, which is what I'm here for.
What are you getting today?
Campari, rhubarb, bread. Basics. My partner and I have a cocktail-of-the-week thing happening. Two weeks ago, gin martinis; last week, Negronis. This week's yet to be decided, though I'm on a pretty heavy gin kick. Not a gin bender, though, don't worry.
Do you live in the neighborhood?
I moved to Bed-Stuy from Harlem on Friday, March 13, literally right before the city shut down. I was living alone. Now I'm quarantining with seven brand-new roommates. And in the beginning, one of them got sick. Thankfully, he's okay and we all vibe.
Who are you living with?
My cat, Jolene. She sits by the window. I cook. I'll, like, put vinaigrette at the bottom of a mixing bowl, then dump a salad on top and eat from the bowl. One less dish.
*This article appears in the May 11, 2020, issue of New York Magazine. Subscribe Now!