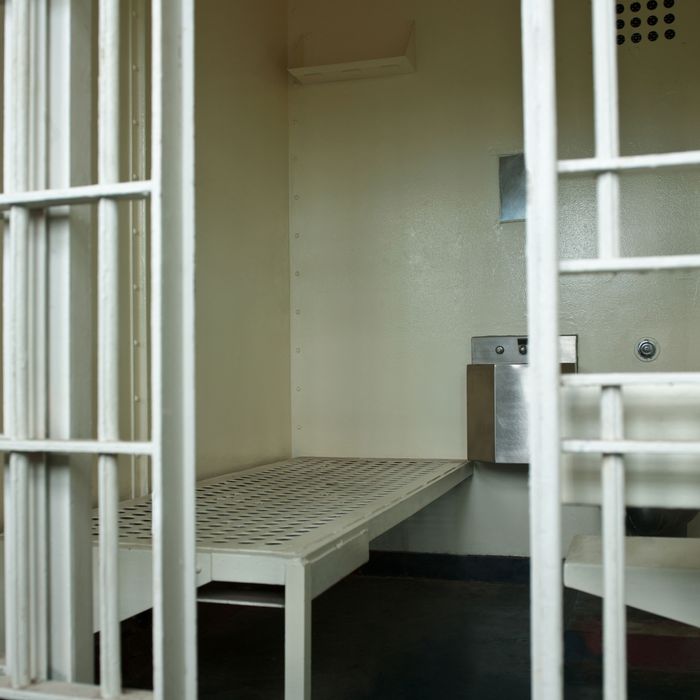 Photo: WIN-Initiative/Neleman/Getty Images
Although COVID-19 outbreaks in prisons and jails are some of the worst in the country — the virus is "tearing through" prison populations, CNN says, and the New York Times has called jails "Petri dishes" — people are still being arrested and detained, even for minor infractions, and the national rate of incarceration has remained more or less stable.
Case in point: The New York Times reported on Wednesday that a 27-year-old pregnant woman named Diamond Davis was arrested and incarcerated overnight at the Montgomery City Jail, which was facing an outbreak of coronavirus at the time. Davis wasn't a danger to anyone — cops stopped her for driving with improper license plates and arrested her after finding she had a record of traffic infractions — but the prospect of jail certainly endangered her.
Davis told the Times that cops flagged her down as she was driving home from her cousin's house on April 19, her birthday, because she was using temporary license plates. After learning she was driving without a license or car insurance, had failed to pay fines, and missed some court hearings, police arrested Davis.
When she arrived at the jail, she said, her request for a mask and gloves was denied, and she was placed in a cell with two other women, one of whom was coughing. Davis spent the night as far away from the coughing woman as possible, but she was reportedly "terrified." Davis told the Times, "I was crying so much. I was very scared for me and my baby."
Davis, who is in her first trimester, was released the next day, but the justice system continued to hound the expecting mother. She was put in touch with a judge over teleconference, who assigned her a new court date to figure out a payment plan for the fines she owes. A few days after her release, local news began reporting cases of jail inmates and staff testing positive for the virus. (Most reports put the total number of cases at 21.)
Michael Briddell, the director of public information for Montgomery, told the Times that the city's police department had received no complaints about lack of masks and gloves, and insisted that incoming prisoners receive temperature checks and that common areas are sanitized (the Times did not note how often). Briddell added that since the outbreak of the coronavirus pandemic, the city has released nearly all nonviolent offenders, and cited as evidence the reduced population of the Montgomery City Jail — from 115 people this time last year to 93 now. Typically, jails incarcerate people who are awaiting trial or have been convicted of minor crimes. Briddell said that only "the most extreme nonviolent cases" are being held in jail, and characterized Davis's case as extreme enough to warrant arrest because she had 16 outstanding warrants.
Another way to characterize the arrest is to say Davis, a black woman, was driving home through a city that, like many other American cities, uses traffic violations as a means to overpolice black people. Claudia Wilner, the director of litigation for the National Center for Law and Economic Justice, told the Times that Davis's case fits a pattern she's observed time and again: A ticket is assigned to a person who cannot afford to pay it, their driver's license is suspended as retaliation, and more tickets accrue as they drive around with their suspended license, missing court hearings for fines they can't pay.
Regardless of whether this model perfectly reflects Davis's experience, now is not the time to be putting nonviolent and untried people in jail. It never was.