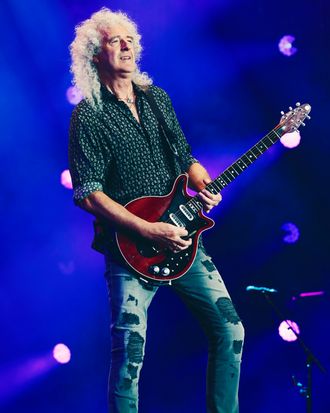 Brian May.
Photo: Cole Bennetts/Getty Images
Brian, you're a boy, make a big noise
Gardening at home, gonna have some big crops someday
You got mud on your face, horticultural ace,
Tearing your glutes all over the place.
Those are the opening lyrics of Queen's 1977 hit "We Will Rock You," respectfully reimagined to honor the band's guitarist Brian May, who announced in an Instagram post this week that he was taken to the hospital after he ripped "his Gluteus Maximus to shreds in a moment of over-enthusiastic gardening."
"So suddenly I find myself in a hospital getting scanned to find out exactly how much I've actually damaged myself," the 72-year-old wrote in a caption alongside a selfie of himself in a mask, and a POV video of him being wheeled through a hospital corridor. "Turns out I did a thorough job – this is a couple of days ago – and I won't be able to walk for a while … or sleep, without a lot of assistance, because the pain is relentless."
He concluded by pleading with his followers to not send him any sympathy right now. "I just need some healing silence for a while," the rock and hair legend explained.
May didn't elaborate on how exactly his gardening led to his butt muscles being blasted to bits, or which plants he was cultivating at the time. Last month, the guitarist and enthusiastic Instagram poster did share a short video of one of the beautiful blooms in his garden, which he filmed while musing on the current state of the world. "A moment in time. A moment to reflect," he wrote.
Fortunately, May seems to be on the mend, and in good spirits. On Friday, he posted a video of himself enjoying Planet Rock radio station's "Brian May Day," writing: "Well … not something that happens to a chap every day !!!"
Hopefully, May's glutes will have a speedy recovery. If only he had been isolating with his gardener, like some other celebrities, this all could have probably been avoided.