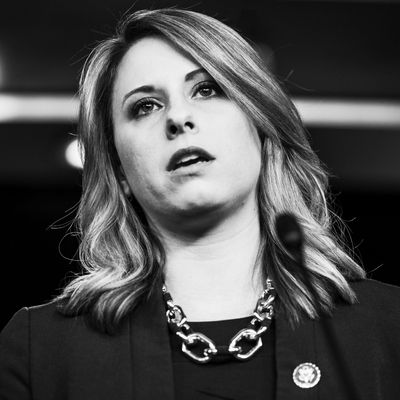 Photo: Zach Gibson/Getty Images
Republican Mike Garcia has won a highly competitive special election to replace Democrat Katie Hill as the representative for California's 25th district, flipping a longtime Republican seat from blue back to red again.
Hill resigned in October, less than two years after her 2018 upset victory, amid a House Ethics Committee investigation into alleged relationships with her legislative director and a staffer on her congressional campaign. Rumors of the relationships first emerged on the conservative website RedState, which also published intimate photos of the former congresswoman that were taken without her consent. Hill denied the relationship with her legislative director, and said that the nude images had been disseminated by her ex-husband, whom she claimed was abusive, in an attempt to humiliate her; however, she admitted to having a consensual relationship with the campaign worker. In an emotional speech on the House floor, Hill said she was stepping down because she did not want "to be used as a bargaining chip" by GOP politicians and media outlets any longer, and decried the sexist double standards in how sexual misconduct cases are handled on the Hill. Before that, she had been considered a rising star among congressional freshmen, with a close relationship to House speaker Nancy Pelosi.
Garcia, a businessman and former Navy pilot, was running against Democratic candidate Christy Smith, a state assemblywoman. CA-25, which encompasses parts of Los Angeles and Ventura counties, is a swing district and a battleground for Republicans and Democrats hoping to secure suburban voters. Though thousands of mail-in ballots are yet to be counted, Smith conceded on Wednesday afternoon, with Garcia holding a comfortable 12-point lead. Smith said in a statement, "While it's critical that we ensure every vote is counted and recorded, we believe that the current tally shows Mike Garcia is the likely victor in the May 12 special election." Donald Trump has already said that it was a "Big Congressional win" for Garcia and for Republicans, though Garcia will only serve out the rest of Hill's term. In November, he will face Smith again in the 2020 general election.