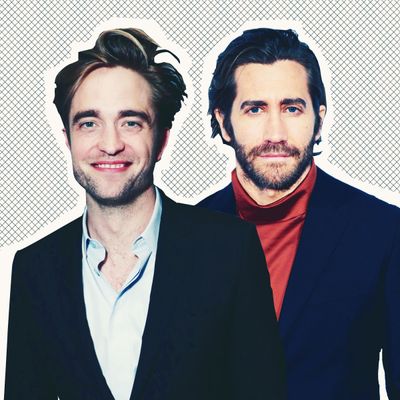 Photo: Eric Charbonneau/Shutterstock/Mark Sagliocco/Getty Images for The Headstrong Project
It was the microwave explosion heard around the world. On Tuesday, GQ published a lengthy profile of Robert Pattinson, in which the actor tried and almost certainly failed to make a monstrous, handheld pasta creation without seeming to care once about what he was doing. What transpired over the course of that interview may well have ended the microwave that was working overtime to satisfy the actor's bizarre craving for "picolini cucino" ("little pillows"). It also perhaps signaled the demise of a certain kind of overearnest, virtue-signaling celebrity quarantine content, usually centered around successful busywork, like bread-making, or effusive expressions of general frustration-slash-boredom. To my mind, the actor Jake Gyllenhaal has come to typify this genre. My hypothesis, therefore, is in these times Robert Pattinson has filled the role of chaotic Jake Gyllenhaal. They are each other's tethered, or whatever. Allow me to explain.
Jake Gyllenhaal is a serious actor, who, like all actors that also do musical theater, has a seriously corny streak, as evidenced by cloying character acting in the films like Okja and Velvet Buzzsaw. It's also coming through, to endearing effect, in his self-isolation content, which thus far has focused on the three Bs: bread, Broadway, and buns (in this case, man buns).
First, buns: Gyllenhaal has been conspicuously growing out his hair, sometimes pulling it back (see this video of him doing shirtless handstand push-ups), often leaving it long but coiffed, slicked back and neatly tucked behind his ears. It's a hairstyle that screams "This man is hot! And leaving nothing to chance!" He's also become a tender parent to his sourdough starter since all this began, telling Stephen Colbert in an interview earlier this month, "I've found myself falling in love with sourdough." He goes on to say he picked up his technique from a friend of his who is a baker. Again, very cute and wholesome. Finally, Gyllenhaal has been exercising his lovely singing voice, first in last month's Sondheim 90th Birthday tribute, and more recently through his participation in the 24 Hour Play project, for which he sang a musical number about longing for connection under social-distancing measures.
Pattinson, like Gyllenhaal, is a successful and critically acclaimed actor in his 30s with important hair. As actors they're not interchangeable, but they enjoy a similar status. If Jake Gyllenhaal were in a Vanity Fair group cover shoot, Robert Pattinson would probably also be in that picture. And yet, one makes sourdough while the other breaks every bond that renders food palatable and digestible. Jake's hair is the crowning culmination of a life surrounded by friends and loved ones who recommend great products to him; in his GQ shoot, Rob looks like he started giving himself bangs to better see the sun peeking through his slatted window shades, then went to check on his pasta abomination and forgot about it. Jake has the power of song; Rob has at least one clean bowl.
Obviously my personal preference is for Pattinson, who has a history of insincere (or half-assed) media appearances, like the time he lied on the Today show about seeing a clown die at the circus in a horrible tiny car explosion. But the main point is that everyone will likely have a strong preference for one or the other because they represent two poles of existence. Cold and warm, thoughtful and messy, conscious and semiconscious, vampire and Donnie Darko. Together, they form one impossible man. Apart, they are merely unattainable.