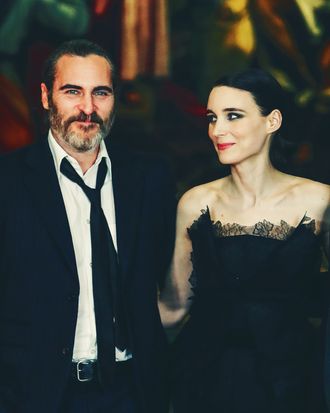 Joaquin Phoenix and Rooney Mara, rumored parents-to-be.
Photo: David M. Benett/Dave Benett/WireImage
Guess who's having a baby?!
Safe to say, a celebrity couple, based on the conspicuously uniform tone of recent announcements from Gigi Hadid and Zayn Malik, Chloë Sevigny, Grusk, Ron Weasley, and … I think that's everyone, for now. Or, it was, before an unnamed source told "Page Six" that Rooney Mara and Joaquin Phoenix are expecting a child, and what's more, that Mara may be as many as six months along.
Apparently, both Mara and Phoenix "have refused to respond to numerous requests for comment from Page Six," as is absolutely their right. Lately, though, some Twitter users have speculated about Mara's pregnancy, pointing to her baggy outfits as evidence. That doesn't feel like the surest metric for confirming a baby bump right now, given the widespread preference for soft dressing during this pandemic, but it appears the armchair detectives may have been correct.
The couple originally met while filming Her, in which Phoenix played a man in love with his phone's operating system and Mara played his ex-wife. Phoenix told Vanity Fair that, at the time, he suspected Mara "despised" him, but later determined his crush on her was mutual. The pair went on to become "email friends," Phoenix told the outlet. They also went on to co-star in Mary Magdalene — never forget this pic of Mary (Mara) smoking underneath Jesus's (Phoenix's) crucified form — and to date, and to do karate together, and possibly also to get engaged.
So congrats to the happy couple, and to their future baby, who will undoubtedly be the most cow-informed child in their kindergarten class.