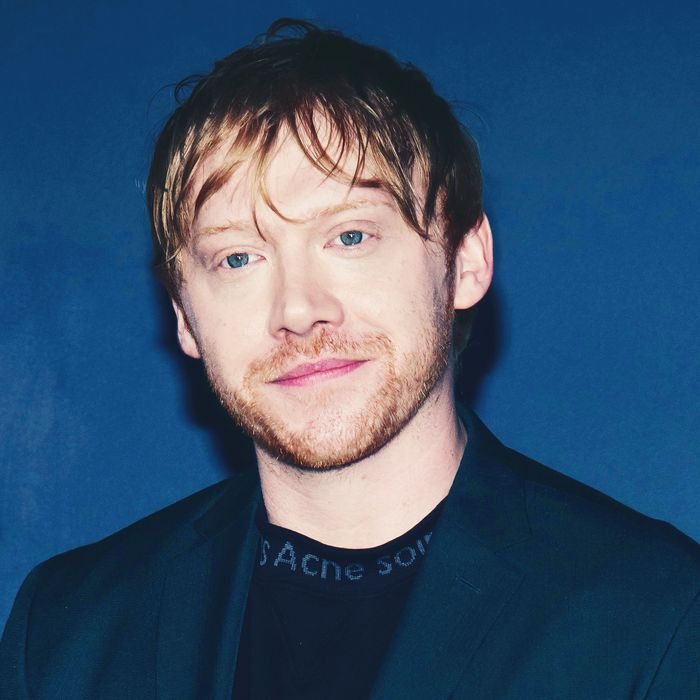 Congrats, Ron!
Photo: Charles Sykes/Invision/AP/Shutterstock
A boom week for celebrity babies continues apace, with Rupert Grint — whom you may more immediately recognize as Ron Weasley, of Harry Potter movie franchise fame — having just become a dad. Ron Weasley's girlfriend, Georgia Groome, gave birth to their first child, probably a Gryffindor and certainly a Taurus. A rep for the couple told E! News on Thursday that although the new parents are "delighted to confirm the birth of their baby girl," they "would please ask that you respect their privacy at this very special time."
Ron Weasley and Georgia announced the pregnancy back in April and have been dating since 2011. They have not yet disclosed their baby's name, although Ron previously told the Guardian he won't be naming any of his children after himself. "If I had a son, would I call him Ron? It's quite a good name, but probably not," he mused, according to E! "And Grint's a tough name to pair a one-syllable first name with."
Hm, well, two baby names have already been taken this week: Vanja went to Chloë Sevigny's infant son, while the coveted X Æ A-12 went to Grimes and Elon Musk's newborn, although there is some confusion as to whether or not they can actually name their child that. Anyway, you know what I think might be good for a little girl? Ginny. As in Ginny Weasley. I do not know if Ron will agree, as this joke has probably gotten tiresome for him, but Ginny Grint is sort of nice, no?